Greeting Card Display Stands for Professional Retail Merchandising
---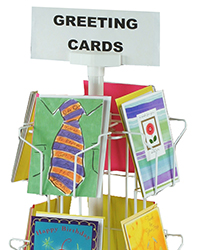 Rotating or Fixed Postcard and Greeting Card Displays Invite Shoppers to Browse
Looking to increase point of sale purchases made on get well, birthday, and holiday cards? What you need are specially-made racks for stocking, displaying, and selling. Greeting card display stands feature affordable pricing with maximum space efficiency. Used in drug stores and gift shops everywhere, these retail fixtures present your merchandise for effortless viewing and purchasing. What's more, greeting card display stands take up minimal real estate when compared to endless aisle racks. When stocking your retail establishment with cards, never underestimate their importance as a "go-with" purchase. Maybe a shopper is buying a birthday gift and needs a card, or perhaps someone is checking out your souvenirs and all of a sudden sees postcards...you can see it now, right? Place greeting card display stands strategically next to impulse merchandisers, near checkout counters, at the ends of aisles, or pretty much anywhere their small footprint will fit. Smaller countertop racks and pockets come completely assembled right out of the box. Larger floor turnstiles, like the spinners with molded plastic bases, arrive in three or four pieces, making assembly a snap.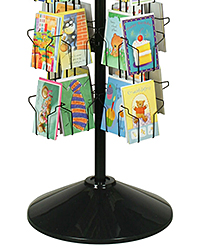 What styles of wire-frame and acrylic plastic store fixtures are offered?
Greeting card display stands with steel wire construction are not only the most popular, but also rotate for easier and quicker viewing. All models feature a sign clip located on top of the racks for displaying promotional messages or pricing. We sell a nice variety of floor-standing and countertop stands in black or white painted finishes, with a large number of pockets per stand ranging from 12 to a staggering 192!
Acrylic plastic holders are available as economic single-pockets. These designs are intended for countertop or table display and are good choices for offering postcards, tourist literature, and other content. We offer a couple of countertop racks as well with one rotating model incorporating six pockets.
Cardboard displays are very lightweight and ship flat for added savings on shipping. While they don't rotate, these card racks nonetheless feature eight tiers with all cards facing the front so shopping customers can scan the entire selection at a glance.
Selling greeting cards and postcards is a profitable endeavor for any gift shop or drug store. What it takes to print the cards compared to what they normally sell for provides big profit margins for the retailer. Seasonal holidays, such as Valentine's Day and Christmas, are dependable for creating huge demand - another reason to sell them. Purchased by just about everyone, greeting cards are used to express feelings towards a friend, loved one, or family member. A special occasion (birthday, anniversary, get well, baby announcement, mother's day, graduation, the list goes on and on) is all it takes to make selling these well-wishes a profitable proposition. This collection of card racks and stands will help you get there!