Countertop Sign Holders - Frames and Displays for Tabletop Use
Shop by Style
---
Shop by Feature
---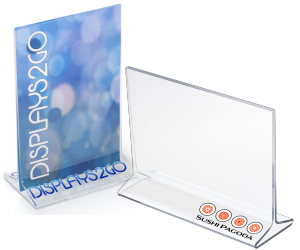 Custom Printed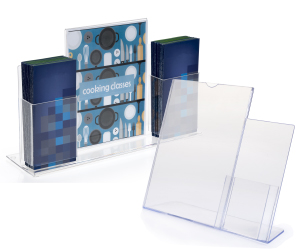 w/ Brochure Pockets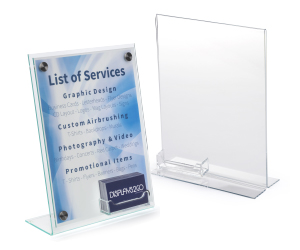 w/ Business Card Holders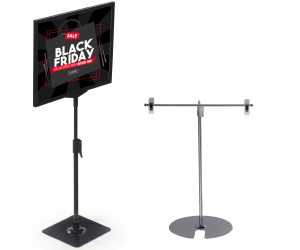 Adjustable Height
Shop More Styles
---
Economy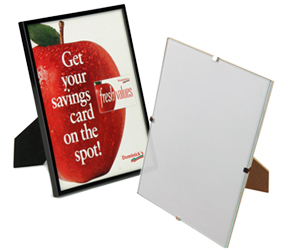 Picture Frame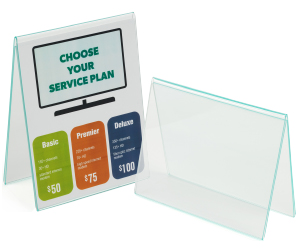 Tent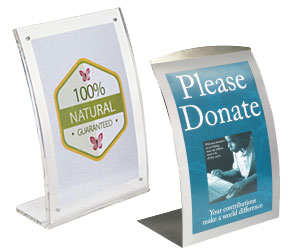 Curved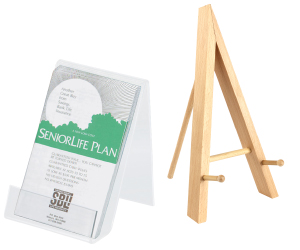 Easel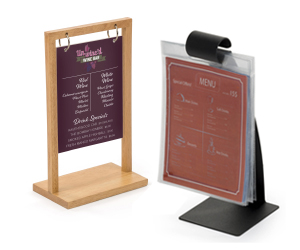 Restaurant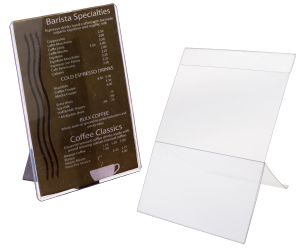 Plastic Sleeve
---
Tabletop Signage Holders Accomodate Graphics Up to 11" x 14"
Are you looking for a message frame to place on a table display or checkout counter? These countertop sign holders are an affordable option for delivering your message to customers. No two businesses have the same needs when it comes to signage; from durable acrylic models that can be changed quickly to elegant easels for formal events, you're sure to find the right display for your industry. Browse low-cost countertop sign holders and outfit every table in your restaurant with top-loading acrylic menu stands for your seasonal beverage offerings. Promote sales and special events in retail stores with easy-to-change models in common print sizes. Countertop sign holders with three panels are great for displaying multiple advertisements in high-traffic locations. Grab customer attention at the point of purchase and protect your printed materials with these tabletop frames.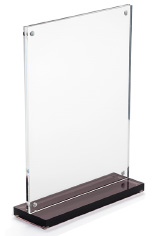 What are the different types of countertop sign holders?
Acrylic and Plastic Stands — Most tabletop signage displays fall into this category. Styles range from angled L-shaped models to open-top holders that support double-sided prints and even low-cost tent-style designs. These holders are versatile, durable, and offer the greatest variety in terms of features and form factors. Slide-in models make it easy to change out messaging on the fly. Stands with magnetic enclosures create a more permanent fixture for signage you intend to display for long periods. Whether you're advertising specials or making informative tabletop signs, you're sure to find an acrylic stand that's right for the job.
Adjustable Height Metal Frames — These slim, versatile holders are an excellent option for retail tabletop product displays. Thanks to a sturdy, low-profile base and slender pole, they can fit right into the center of folded piles of clothing or a seasonal sale arrangement. The frames can be set in either portrait or landscape orientation for a broader range of signage options.
Counter & Register Mats — These may not be the first thing that comes to mind when you think of signage, but these holders are indispensable for retailers. Clearly communicate your return policy, advertise a new product or sale, or reinforce your branding with these countertop pads. Non-slip backers and non-glare lenses protect your signage and keep it in front of customers at checkout. While most offer a slide-in design that allows for easy messaging swaps, low-cost custom printed models are available for a more permanent option.
Table Top Easels — For formal events and upscale businesses, sometimes an everyday tent frame just won't do. Black-tie celebrations like weddings and galas often feature one-of-a-kind or hand-lettered signs. These table top easels complete that elegant aesthetic, while letting artfully crafted posters shine. Use these stands to support books at signings or prop up products in a display, as well.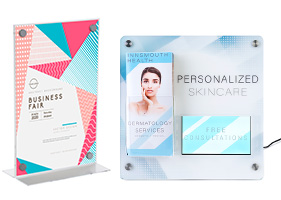 Countertop holders come in a staggering variety of shapes and sizes. With some even offering extra features like additional space for brochures and business cards, it can be difficult to know where to start. Picturing your specific use-case is a great jumping-off point. Do you need to put both drinks and specials menus in front of your customers? Multi-panel holders can show several different prints at once. Do you have some information you need to display quickly and easily? Check out low-cost, no-frills acrylic slide-in frames. Are you looking to generate leads? Advertise your services and let clients follow up later thanks to an integrated business card holder.
There's no one-size-fits-all solution to signage, but by choosing a common print size, you can explore many different options to find the one that works for you. Does your merchandising plan include a mix of countertop and floor standing displays? Pallet signage for warehouse clubs and grocery stores complements both product stacks and tables.