Cash Register Stands w/ Back End Shelving, Storage, and Drawers
---
Cash Register Stands w/ Shelving Offer Accessible Storage for Retail Employees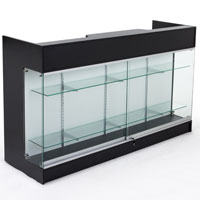 Are you looking for more ways to make shop supplies available to employees, but need to keep them out of sight from customers? These cash register stands are the centerpiece of retail showrooms and professional offices. Retail fixtures offer a centralized place for customers to interact with employees. Our counters with shelving and drawers reduce the need for extra storage units, allowing more floor space for merchandise. Businesses use these fixtures in centralized locations in hotels, hospitals, offices, and salons. With social distancing rules in place in many states, and restaurants or retail stores offering curbside pickup, we have seen many vendors take advantage of these cash wraps as outdoor check-out or pick-up counters. Keep in mind, that the melamine finish and MDF material is not designed to be weatherproof, so this option is best suited for businesses who have a covered outdoor area, patio, or lobby where inclimate weather conditions would be of no concern. For those who can, these mobile cash wraps are an easy, lightweight option for transforming an outdoor area into a pick-up, check-in, or check-out area designed to keep the line moving and foot traffic at a minimum while offering maximum customer convinience.
Take advantage of greeting and point of sale hubs such as these cash register stands to optimize the effectiveness of your workforce. Place counters with front and back storage in a lobby or reception area to to provide an engaging visual display for customers entering your business or making their final purchase. If your business does not want to showcase last-minute impulse items at checkout, use cash register stands with custom graphics to feature full color UV digital printing on an acrylic panel. Using product displays or artwork featured on these showcases dress up office space and boost brand recognition.
What materials and finishes are available for these cash register stands and reception desks for sale?
These retail counters, built from laminated particle board and MDF, are affordable and attractive. An alternative to hardwood, they maintain an upscale appearance in high-traffic areas.
Black, white, cherry, and maple wood grain melamine finishes look clean and professional.
While most units have a classic wood or or painted look, some have front-facing shelving for dynamic product displays. Use our "Customize it" option to create unique printed acrylic signage.
Cash register stands range from 24"w to 121"w, and are sold in many different styles to suit your staffing needs. Small counters with a plain front make great hostess stations and single-person check-in desks. Use options with a single drawer and shelf to hold menus, cash boxes, office supplies, or promotional material. Curved counters are an elegant statement in offices and give receptionist a centralized hub to work from. Large displays for hospitals and corporate greeting areas feature shelf and storage space. Some models have locking pull-out drawers to securely hold cash, electronics, or any other valuable items.
What storage features are important to consider when shopping for reception area desks and register stands?
Locking pull-out drawers are great for securing cash and credit card machines. Use to store supplies like tablets, calculators, schedules, or notebooks.
Height adjustable shelves allow a variety of merchandise overstock and supplies in various sizes to be stored.
Tempered glass shelving on the front of some of these desks offer a place to display products or decorative items.
Some register stands feature a check writing ledge to assist customers in making payments or dropping off paperwork.
When shopping for a workstation counter, consider units with enough space to support a register, credit card terminal, or laptop. Some models have cord management cutouts to keep the word surface clutter-free. Optimize these register stands to be multi-purpose units to give employees the resources needed to be successful. Or, engage customers with product or promotional displays.
Reception desk anchor customer and clients attention visiting a business or showroom. These fixtures support customer service interactions and employee work habits. The majority of our units ship unassembled to save you money, but two people can build any fixture in 20 minutes or less. We offer bulk order pricing as well as a great way to lower cost for a chain of offices or showrooms.
From hostess stations, point of sale counters, or reception desks, choosing an appealing fixture for your greeting area is the first step toward creating a beautiful visual marketing plan. Note that many of the fixtures sold on our site are designed to compliment eachother on the sales floor, so be sure to check the dimensions in each product description to create the perfect display to match your unique floor plan.