Grid Panels Help Organize and Display Merchandise
---
Wall Mounted Grid Displays for Retail Environments
Looking for a solution to displaying retail merchandise? Outfitting your establishment with wall mounting grid panels is an efficient way to display products while saving on valuable floor space. With these gridwall fixtures, users can showcase their merchandise effectively while freeing up room for patrons to browse their shop. Grid panels also allow you to place your products at an eye level for a better shopping experience. Merchandising panels are a great way to organize and sort retail goods — it's essential for small shopping centers locations and even large department stores. We offer wall mounting gridwall fixtures in a variety of configurations. Grid panels, like slotwall, are some of the most versatile types of displays on the market.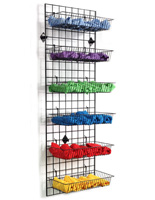 What types of wall mounting gridwall displays can I purchase?
Grid panels with baskets are great for stores that have loose retail merchandise. (2) 2'x6' fixtures are included with (12) 24" wide x 4" high x 12" deep baskets.
Ideal for displaying clothing, gridwall fixtures with "C" rail hangers come with (2) 2'x6' wall mounting gridwall slabs and (10) hangers.
((2) 2'x6' boards with (25) 12" faceouts can hang merchandise like handbags and pocketbooks.
(2) 2'x6' mountable gridwall with (25) waterfall hooks also hang retail products.
(2) 2'x6' wall mounting boards with square brackets can help create displays in vertical and horizontal orientations.
Various sized gridwall boards are sold "as is" without any attachments. This allows users to purchase additional hanging accessories for grid fixtures to create their perfect display.
The versatility of these gridwall displays makes them such a staple for stores of all sizes and for locations with a variety of products. These fixtures are rugged, appealing, and most importantly inexpensive. The fact that there's a variety of ways to use gridwall displays really opens the door to endless opportunities for showcasing retail merchandise. If you are someone looking to enhance their retail space, investing in these flexible store fixtures will help you organize and showcase retail items. Shop online at Displays2go.com for quick shipping and low prices.