Food Display Cases For Keeping Cookies and Pastries Fresh on Countertops
---
Countertop Display Bins Help Preserve Quality & Freshness of Breads and Pastries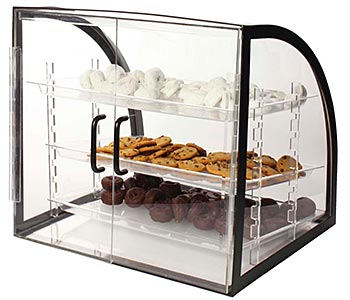 These food display cases lure customers to mouth-watering delicacies sold in food-service establishments! Fabricating great baked goods isn't enough to be successful in the retail and hospitality industries. How food is handled and the freshness is very important. For these reasons, our food display cases are offered to keep cakes and cookies fresh while on display! Under these clear bins, delicacies will look tempting and appealing to shoppers. These restaurant supplies help prevent contamination of baked goods, in addition to making them more appealing. Food display cases provide flexibility and versatility with the types of merchandise they protect. With a simple, clear acrylic design, these domes and bins can be used in any environment or setting. The right food cover can make all the difference in the presentation of baked goods!
In addition to bakeries and cafes, how do other businesses use food display cases daily?
Hotels use these to offer a selection of croissant sandwiches during breakfast and brunch buffets.
General stores rely on these self serve bins to boost sales of candy and other packaged munchies.
Restaurant buffet lines protect sides, bread and rolls from sneezing and coughing guests.
Cafeterias grant quick access to grab-and-go snacks.
Gas stations integrate these into checkout areas to encourage impulsive pastry purchasing.
Schools creatively unveil meals and specials of the day to students.
Grocers allow local artisans to self promote products on each tray.
What are the advantages of acrylic cases over glass and stainless steel units?
More resistant to breakage than glass.
Less expensive than stainless steel or aluminum cake storage displays.
Lighter weight and easier to handle.
Easy to clean, hand-washing each unit takes approximately one minute.
Cookie display cases feature clear acrylic walls so customers are able to get a clear view of pastries and snacks. Wood and metal bases are available to really add to any decor. Many displays are rear-loading, so bakery or diner employees are the only ones that can access the contents. Slide out trays make it easy to load up with freshly baked food. Take out empty trays, load them up and then slide them back in to display your food. Designs include both curved and square fronts. An angled cases allow trays to tilt forward slightly, giving customers a full view of the contents.