Meter Board Sign Bases for Displaying Rigid Signboards
---
Steel Floor Bases for Meter Board Sign Applications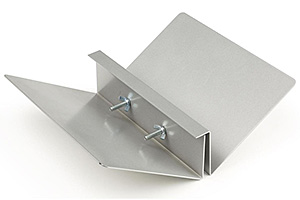 What is a cost-effective way to display promotional graphics or wayfinding? Meter board sign bases provide the stability necessary for displaying rigid signboards. In appearance, it's very similar to a retractable banner stand — but without the moving parts. A meter board sign is, by definition, either a single or double-sided graphic printed onto a 1/4" or 1/2" thick rigid substrate. Examples of materials include Gatorfoam, Sintra, Dibond, and AlumaCor. Meter board sign bases let you place promotional or directional signage in strategic locations for high visibility. Place inside hotel lobbies for wayfinding instructions or announce seminars at trade show events. We offer the meter board sign bases only, and suggest customers get their printed signboards locally or in the city where the event is to be held. This is mainly due to the high cost of shipping oversized panels.
What are the advantages of using metal floor bases for signage?
Meter board signs are intended for temporary or even one-time use (which is why they are used at expos and conventions for wayfinding purposes). Those venues are incredibly expansive, so a little visual assistance goes a long way towards helping to direct visitors or 1st-time guests. When the event is over, your rigid panels can be re-used and printed over for the next promotional gig. Their portable design also makes it easy to pick up and transport when necessary.
Most of the sign bases offered here are manufactured from thick steel in a two-part design. Your printed panel is held in place and secured with bolts and wing nuts. This "clamping" action produces a secure and balanced presentation. In addition, all steel edges are smooth to the touch. This is important if you plan to display the meter board sign in the presence of small children.
We offer these bases in many widths to provide you with different sized options. Your panels can range anywhere from 12" to 48" wide. In the case of extra large boards, multiple bases can be combined to accommodate almost any size. We do suggest limiting the overall board height to 6 feet (especially if using heavier substrates).
Sponsors at public events like to promote the fact, so meter board signs are an excellent choice for advertising. At the retail level, large graphic display stands feel right at home in auto showrooms, box stores, and shopping malls. Airport terminals also use these floor standing signs at ticketing line entrances. If you've ever seen the metal container for testing carry-on luggage size, chances are the meter sign standing behind it is one of ours! If you are looking for a sign display that comes with a printed graphic, custom printed floor stands featuring SEG stretch fabric panels are a great alternative!