Banquet Linens for Dinners, Events, and Receptions
---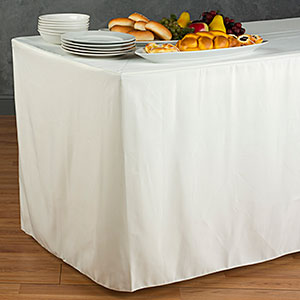 Banquet Tablecloths, Skirting, & Overlays for Round / Straight Tables
What is the most necessary decoration for hospitality events? Banquet linens offer just the right amount of formality needed by professional caterers and organizers. Made with traditional polyester or stretch-fit fabric, our table covers come in a variety of muted colors. Unlike the bright coverings intended for trade shows, banquet linens feature softer hues for a more subtle appearance. We sell covers and skirting in round or rectangular sizes. Featuring attractively low prices, our banquet tablecloths are affordable enough for purchasing instead of renting. Creating a cohesive layout with uniform decoration is a paramount task for any function. Having the covers or skirts on hand before an event makes organization that much easier. We offer these overlays as single purchases or in bulk. Need them fast? All our plain banquet linens ship out same day when purchased before 3PM EST.
What kinds of hospitality table covers and supplies do we offer?
Simple banquet linens come in the form of tablecloths. Easily draped for instant decoration, these table throws feature a wide selection of styles. Choose models that extend a few inches beyond the edges, or select drapes that fall to the floor. Classy fitted covers match the size of rectangular tabletops, then continue straight down for a more formal look.
Box pleat table skirting is available in a few ways. One option is to choose just the skirting which provides the decoration but without the tablecloth. Special clips slide onto the edges for attaching the fabric around the table. We sell skirts in three different lengths: 13.5", 17.5", and 21.5". The different sizes can be used in many ways depending on your layout. For an easier explanation, please refer to our table-sizing chart for more information. If you would like the entire package, opt for our complete kits which include the skirt, clips, and tablecloth. Like the covers above, these are available in a nice selection of muted hospitality-themed colors.
Round table throws come in three diameters that feature wide, elegant side flutes. Used on multiple tables in a banquet hall setting, the linens make great choices for wedding receptions and retirement dinners. Decorative organza overlays and runners add special emphasis to the overall presentation.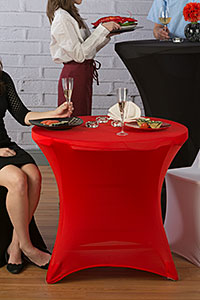 Stretch-fit covers offer a novel way to dress up the occasion. Made with a spandex/polyester mix, these displays provide a smooth, wrinkle-free appearance. We sell models for outfitting rectangular as well as circular highboy tables. The highboy styles are the perfect accompaniment for cocktail parties, receptions, and other casual gatherings. Light and airy, stretch-fit covers add a more contemporary look to traditional table decoration.
While you're here, why not shop for folding tables? Buying from us takes the guesswork out of confirming the right sized purchase. Rectangular tables can be used with traditional coverings including our spandex styles. The standard models fold flat for convenient transport. Some of the highboy cocktail styles also fold flat. We sell both types with an adjustable height feature for adapting your reception layout even further.
Folding chairs are the workhorse for temporary banquets. Our standard model is affordably priced with substantial price discounts if purchased in bulk. The upscale black plastic chairs are designed to stack on top of each other for compact storage.
The table decorations offered here are standards of the industry. Suitable for large conferences or a small continental breakfast service, these hospitality supplies are both affordable and reusable. The polyester fabric is machine washable and wrinkle-resistant. For the occasional wrinkle, a warm iron is all that's needed to smooth it out. Our substantial selection of drapes and overlays is designed for hoteliers, catering companies, and event organizers. For the restaurant industry, these tables and covers provide the look patrons expect. In addition to skirts and drapes, Displays2go offers a huge selection of restaurant marketing displays. Shop for menu accessories and other supplies that go hand-in-hand with our table coverings.