Hanging Signs for Store Front Windows - Multi Panel Grid Poster Systems
---
Hanging Sign Grids with Acrylic Panels & Jack Chains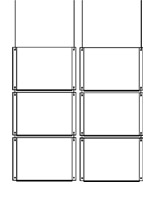 This hanging sign selection includes frame matrixes for advertising in windows. Retailers in busy point-of-purchase environments, such as a mall or outdoor shopping district, must find a way to draw customers into their institution. These hanging signs do just that! The poster frame grid is a window display designed with all the features advertisers want and need to be successful at capturing new customers. These hanging signs, also known as ceiling suspended signage systems, are affordable and unique. The affordability is a result of an ingenious design, which balances quality with economical price points. What makes these hanging signs unique? The answer is custom configurations that create a matrix of posters. The hanging sign frame grid is very effective at capturing the attention of potential customers passing a storefront window. This is especially true when colorful, eye-catching graphics are placed in the frames.
The hanging sign grid is ideal for businesses of all types due to the fact a matrix allows users to communicate a large amount of information in a single display. The poster frame grid system also allows users to promote several products or services from a single fixture. These hanging signs are specifically designed to be affordable. The result is businesses of all types can now afford to advertise with a signage matrix. This particular series of hanging sign grid has a construction with an ideal balance of affordability, easy to use design and neutral style that coordinates with a wide variety of settings. Furthermore, these ceiling suspended poster frames are easy to mount. Each of these window displays is suspended from the ceiling only, oppose to anchoring into both the ceiling and floor. This is yet another fact that contributes to the affordability of these displays. These hanging signs are perfect for use in conjunction with other window displays. The unique grid configuration, also called a hanging signage matrix captures the attention of passing customers at stores or a trade show!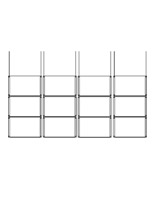 Why buy hanging signs and trade show displays from this online catalog?
Variety. The poster matrix system sells in dozens of configurations on this website.
Quality. Each hanging sign features precision laser cut acrylic advertisement holders.
Versatility. The signage matrix system has a neutral style to coordinate seamlessly with any décor.
Efficiency. These hanging signs make maximum use of a stores square footage by suspending advertisements from the ceiling.
Exposure. Each window display matrix system is double-sided, creating maximum exposure for advertisements.
What are the advantages to advertising with hanging sign systems?
Ceiling-suspended frames leave wall space open for exhibiting other advertisements or display objects.
Matrix signage systems allow advertisers to feature various products or services in a single display. The linked frames can convey a longer and more complex message than single poster holder can.
When hung in storefront windows, these matrix systems advertisers to potential customers outside an institution, as well as patrons in the store, as each frame is double-sided.
Grid window display systems hang from the ceiling, which allows customers outside the store a view into the institution. This is oppose to signage mounted directly on the window, which blocks customers' view into a store.
The setup of this trade show signage grid is much faster than a banner or other visual displays. This is due to the unique ceiling brackets.
Each suspended poster frame is made from a single sheet of folded acrylic. This construction has many advantages. First, the acrylic used for these window displays is completely clear, which allows each grid poster system to coordinate with almost any business or trade show setting. Additionally, the material is 1/8" thick, so each suspended poster frame is relatively lightweight and easy to hang. The main benefit of the acrylic construction of these suspended signage holders is affordability. Each unit in this category is significantly less expensive than similar units made from aluminum or other expensive materials. The fact that each frame is made from a single sheet of folded material means prints top-load into the unit. The top-loading design is easy to update with new posters daily if necessary. Yet, another advantage to purchasing matrix frame systems made from acrylic is the modular design. Individual poster holders can be purchased to expand any of these frame suspension systems.
Each window display comes with a hardware kit for suspending the signage holders from the ceiling. Each matrix configuration comes with as a kit for each column of frames. For example, if a shopper purchases a grid system that is four poster holders high, and has three columns, then three suspension kits are included with the purchase. Each kit includes brackets for drop-supported ceilings, bolts for plaster ceilings, s-hooks and 60" long chains. The suspension kits are designed for affordability and dependability. The chains are rugged, and will not snap. However, this method of suspending signage systems is much more affordable than using steel wire. The ceiling suspended design is quick to set up at a trade show or booth. The fact brackets are included for the ceiling only saves significant time over units that have floor brackets as well.
Unlike many other POP fixture suppliers, Displays2go keeps a huge live inventory in our warehouse located in Fall River, MA. What does this mean for the shopper? A live inventory means most ceiling suspended signage and trade show exhibit comes with a same day shipping offer! Each custom matrix system is eligible to ship same day when in-stock and purchased before 3PM EST, Monday – Friday. In addition to shipping signage suspension systems faster than competitors do, this online catalog offers a huge variety of custom advertising displays ideal for use in conjunction with each poster holder matrix. These merchandise include mannequins, suction cup acrylic frames, objects racks, custom literature stands, trade show exhibits, banner flags and retail store fixtures. Customers that have questions on this frame matrix system, or any custom window display for sale on this website, can contact consumer service via live chat or via phone at 1-800-572-2194, Monday – Friday, 8:00am – 5:30pm.