Flag Cases for Folded Military Memorial Banners in Wood and Engraved Styles
---
Memorial Flag Display Cases Honor Military Service with Triangle Folded Banners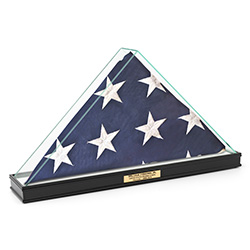 Are you looking for a memorable frame to give tribute to a retired or fallen hero in your life? Our flag cases pay homage to those who have sacrificed and celebrate their service, commemorative events, and honor. This collection of 3-sided shadow boxes offers an instant reminder of their duty and act as a token of remembrance. Triangle flag cases are specifically designed to house folded burial banners and are offered in a large variety of natural wood finishes. Our veterans' honor boxes support large 5' x 9.5' or small 3' x 5' standard sizes and come in a large range of styles, colors, and special features.
In addition, these shadow boxes are traditionally used to accept a folded standard during services for veterans and honorable tributes to our fallen heroes. In addition, non-military organizations use these memorial flag cases to celebrate, honor, and remember special people, occasions, or events. The furniture-quality wooden enclosures can be wall mounted or displayed with atop matching pedestal bases on home mantels, tabletops, or shelves. Some of our 3-sided memorial display cases feature suitable housings for treasured heirlooms such as medals, photographs, and historical memorabilia. Professional, museum quality designs ensure that each triangular banner frame provides a lasting tribute to valued military, public, and civic services. We offer both American-made options and frames with a small plaque for personalized engraving.
What are some of the special features included in these honorable standard frames?
Military issue flag cases for veterans are sized specifically to accommodate American banners that meet the 5' x 9.5' government specifications. These triangular memorial display frames also accomodate traditional service standards for retired or fallen Police and Fire personnel, which may use 3' x 5' sizes.
Three-sided memorial flag display cases feature deep pockets and can be ordered with or without decorative pedestal bases for mantle or tabletop placement. Each unit includes a hanger hook for durable and highly visible wall mounting.
Clear acrylic flag display case for mantels or shelfs combine the modern look of a completely transparent triangular plexiglass case with the traditional feel of a wooden base. These non-traditional shadow boxes are sure to grab attention.
Combination commemorative flag display cases come in a variety of styles designed to commendations, certificates, insignia, medals, or awards as well as national, divisional, or military branch banners.
All frames include front windows constructed of sturdy glass or clear acrylic plastic that provide full visibility while protecting contents. Our banner displays feature either hinged front panels or removable backs for ease of loading and access.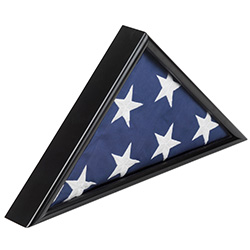 Our heirloom quality flag display cases for service banners, ensigns, and national colors feature solid wood construction. Rich, natural finish colors ensure that a match can be found for any residential, organization, school, or professional decor and environment. Many of our triangular cases are made in the USA. Burial and interment banner frames, including those provided by the Veterans Administration or other civic and governmental agencies, are offered as tributes to persons who have provided the highest levels of service and dedication. Many businesses and organizations choose to honor employees, associates, contributors, or retirees with the gift of a standard that has flown over a capitol building, ship, or other honored location. Museums and schools frequently present collections of treasured memorabilia from veterans, former students, or other honorees. A triangular folded banner in an elegant wooden holder makes a great addition and leaves a lasting impression as well as preserving a memorable occasion for future generations. Many people choose to use this type of heirloom-quality showcase in conjunction with shadow box frames designed to house memorial certificates, challenge coins, medals, insignia, and other memorabilia.