Picture Hanging Systems for Window Display Mounting
---
Picture Hanging Systems & 8.5" x 11 Windows Displays with Mounting Kits & Paneling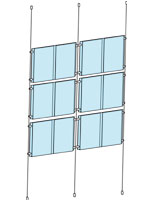 These cable suspended kits, picture hanging systems are ideal for mounting in window displays to attract passerby customers. This signage kit is the ideal visual merchandising tool and can be used by many businesses. These picture hanging systems can be used by retailers to showcase new products, by restaurants to show new menu items, by real estate offices to show new listings, by colleges to exhibit student work and much more! This signage is sleek and contemporary for those looking to replace outdated advertisements in an institution. These picture hanging systems include the necessary hardware to install the display from floor to ceiling. The included custom designed panel grippers and floor/ceiling mounts add elegance to this display so it is as visually appealing as the ads placed in the panels.
What is included with these picture hanging systems?
These kits include clear acrylic panels in a variety of sizes. The top insert design allows for simple and quick changing of signs when needed.
Every picture hanging system comes with satin silver anodized aluminum panel grippers to hold the acrylic frames securely in place. These custom designed mounts have an elegant look that will fit into many environments.
This display also includes fixed floor and ceiling mounts. This is ideal for many businesses because this kit can be assembled virtually everywhere including in window displays.
These picture hanging systems also include nylon coated stainless steel cable in 16ft. lengths to reach even the tallest ceilings.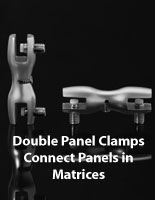 Cable displays are the latest in visual merchandising. These picture hanging systems, also known as suspended sign display kits, include clear acrylic panels with a simple top insert design. This signage can be combined with various kits to create a unique matrix. These picture hanging systems are contemporary and have satin silver finished hardware for an elegant appearance. This cable display comes with different sized panels all sold in this online catalog! These picture hanging systems can be mounted virtually everywhere in a business and are ideal for window displays. Purchasers can place graphics back-to-back in the acrylic frames so customers passing by outside the window can see them as well as customers inside the store.
How can businesses utilize this display for visual merchandising?
This picture hanging system is the ideal visual merchandising tool as it can be customized to meet business needs.
Purchasers of this display can install in a storefront window to get the attention of customers passing by and increase traffic within a store.
These picture hanging systems can be used to advertise promotions, new products, specials, and much more.
Graphics can be inserted into the acrylic frames back to back to create a double sided display to maximize advertising capabilities.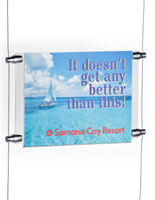 This sign kit is ideal for storefront advertisements. It is often a challenge for businesses to grab the attention of customers so this display can help maximize the advertising capabilities! Visual merchandising is known to increase sales and traffic in a store and this kit provides a simple way to do just that. The custom designed panel girps and floor to ceiling mounts make this cable display system stand apart from others. This kit has a wide variety of acrylic panel size options for all signage needs. These signs are ready to install once purchased with all of the needed hardware; all users need to do is supply advertisements! The sleek panel mounting grippers are included. Acrylic panels can be used to show new producst which is useful to many businesses.Window displays are vital in catching the attention of customers. With this matrix users can display many advertisements and highlight as many products as needed to spark an interest from a wide array of customers.
This display is a work of art and purchasers can make it unique with their own ideas and inspirations. Users can combine different columns with different sized panels for an even more eye catching matrix. These kits include the necessary hardware to install to mount from ceiling to floor. This signage is contemporary for businesses who want to update their visual merchandising tools. This practical display is great for businesses who want attention grabbing signage that is ready to install! This kit is versatile and can be installed virtually everywhere in an institution.
This display is sold as part of the sign systems category. This category has a large selection of wire suspended sign options. There is a huge selection of signage products in the sign hardware category! These products are all at affordable prices and are designed to be compatible in order to create unique displays! In addition to supplies for suspended signs, this site has a wide variety of in stock POP displays to choose from. Browse this online catalog to find all advertising display needs!