Non-Locking Tablet Floor Stands for Convenient Hands-Free Use
---
Enhance Your Tablet's Flexibility with Adjustable Floor Stands for Touchscreens
In the market for an easy way to prop up an iPad for hands-free use? Non-locking tablet floor stands offer an adaptable and responsive solution to this problem. If you don't need a locking enclosure for your device, your options become more straightforward as well as more affordable! These non-locking tablet floor stands provide a stable platform for positioning iPads at the perfect spot. Their expansive adjustability can accommodate standing, sitting, or reclining positions. Reading books, watching TV, and running Zoom meetings can all be done hands-free with these non-locking tablet floor stands.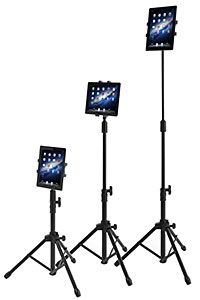 What have our customers been saying?
"We have been using this iPad stand at career fairs for over two years. They easily and securely hold the iPad in place. Setup and take down are easy and intuitive. Would definitely purchase again!" - Jane on Sept. 20th, 2018
"This is the perfect iPad stand on the market. It's light, stable, works as advertised and folds up into a carrying bag. A very well made and workable product." - Carmen on Aug. 23rd, 2018
"Been looking for a music stand for my iPad to use while performing. Works great and very compact." - Frank on May 9th, 2017
What are some more uses for our non-locking tablet stands?
Love to cook? Follow recipes and set timers with these hands-free floor displays, safely protecting your device from spills and splashes on cluttered counters.
Position iPads alongside couches or even bedside for your convenience. Watch movies, read e-books, or surf the web.
Thanks to the portable nature of these stands, they make great additions to an office environment. Wheel a tablet to a conference room or collaborate with colleagues on-the-go.
Face-timing with the family has never been more critical than during the COVID-19 epidemic. Using an adjustable floor stand for your device helps make the visit comfortable and hands-free.
Using lockable iPad enclosures have their place in the commercial sector. In retail and public spaces, the possibility of theft is genuine, so it makes good sense to secure and protect your investment. For other applications, fiddling with a key and locked housing isn't necessary. We suggest using your judgment when it comes down to choosing between both types of models. If you happen to be looking for a product that locks an iPad, our tablet kiosks with secure enclosures offer much of the same range of portability and adjustability.