Restaurant Check Presenters | Hardcover, Leatherette & Illuminated
---
Check Presenters with Hardcover, Padded Leatherette and Illuminated Styles
Why are guest check presenters are a great way to show customers an appreciation for their business and gratuity? A plastic bill holder is a great way to present customers with their tab. The last part of a guest's dining experience is an important element to the whole dining experience, for it leaves patrons with an impression of the overall time they had. These restaurant check presenters will leave customers with a sense of satisfaction. Faux leather bill menus provide a sophisticated way to reveal a customer's statement. These holders keep guest information private, unlike the plastic trays found in many restaurants. These check presenters maintain customer privacy and maintain an organized workplace. Many of the bill presenters are made of a leatherette material. This synthetic material offers the same authentic look of real leather for just a fraction of the cost. These enclosure have padded and hardcover exteriors. The soft padding on the front and the back of these restaurant check presenters adds an elegant touch for guests. These displays also hold money and cards better than standard tip trays, which also leave money exposed.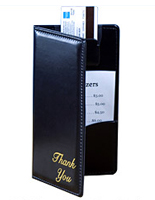 The restaurant business gets messy, but our guest check presenters are easy to clean! Real leather material can be a hassle to maintain. Leatherette can simply be wiped clean with a wet rag and will look new again. Restaurants prefer to use these bill enclosures because they are more sophisticated than plastic and easier to maintain than genuine leather. Guest receipt holders have pockets to keep the financial information and credit cards safe and organized. Many of the bill covers on this page feature inside pockets. Pockets can be used for customer receipt copies, merchant receipt copies, credit cards, cash, dining club cards, and gift certificates. Pockets are great to have in a fast paced environment where bills could potentially get lost in the hustle or fall in between a stack of menus. When using tip trays it is difficult to keep money from falling off or becoming disorganized. Bill presenters maintain privacy so that only the guests and servers know the financial amounts enclosed. The black leatherette finish suits any style of venue. A classic design can conform to casual venues as well as fine dining settings. A nice detail of these holders is their decorative debossing logo that reads "Thank You." This message is located on the front of each bill sleeve in the bottom right hand corner. This gold foiled note will show customer appreciation and keep them coming back! These bill holders are the ideal way to conclude a customer's meal. Bill covers are the last things guests see before they leave the venue.
What are some advantages to using these bill holders?
Faux leather looks authentic for a fraction of the cost.
Add professionalism to any restaurant and conform to fine dining venues.
Maintaining organization for wait staff and guests while keeping financial information safe and private.
Credit card slots are easy for a guest to find and use.
Are you looking for an economical way to refurbish your restaurant décor? Merchandise for the foodservice industry, such as these supplies, is important to invest in for their practicality and profitability. Pair this faux leather receipt holder with a menu cover found on this site to create a professional and stylish atmosphere for dining. Simple refurbishments with these products make all the difference in today's foodservice industry. Details count! These check holders are very popular for restaurant venues. Purchase these bill enclosures in bulk quantity to save money and to have replacements for future use! Shop for foodservice supplies today!
What are some important factors to consider when purchasing restaurant supplies?
Synthetic leather is economically priced while providing a sophisticated and professional appearance.
Leatherette material is easy to clean, especially when compared to authentic cow hide.
Products come debossed with "Thank You" inscriptions for a welcoming impression.
Many other displays to are available to pair with these bill holders and use in the restaurant industry. Menu covers are available in different designs and can be used anywhere from fast food joints to five star establishments. Table tents are a great way to advertise drink specials and appetizers. By keeping lists readily at hand, customers will be more likely to make a unique order or purchase.