Cupcake Display Stand
---
Cupcake Display Stand - Affordable Tiered Stands for Decorating Parties and Weddings
Wondering how to display cupcakes at your next event? Well, this cupcake display stand series helps present baked goods with an elegant and stylish touch! Consumers are naturally drawn to a product by the organization and appeal of the surrounding display. A tapering party tree for baked goods is an attractive way to present desserts in all types of settings. The simple tiered design of the decorative towers allows for an economical price point while also adding functionality to events. A large cupcake display stand is ideal for catering, weddings and big galas. Bakery and restaurant owners use these disposable baked good holders to showcase fancy muffins, petit fours, cakes slices and more! These large cupcake towers are available in many fun colors, shapes and sizes. Statistically, neat exhibits and stands for food items play to the senses of potential customers. There is sure to be a style of this affordable display that pairs with any design scheme.
The cheap and portable cupcake stands are commonly used at corporate events because they are designed for easy assembly and quick clean up. What styles of dessert displays are available in this category? Round, square, odd shapes and many colors and patterns are available for purchase. Showcasing an elegant cake tree at a birthday party is a guaranteed hit amongst friends and guests.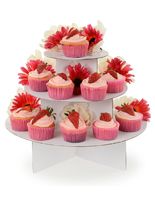 Why should I choose disposable dessert holders?
Cardboard cupcake stands are great for use in places such as bakeries, hotels, restaurants, banquet halls as well as for catering events.
The economical corrugated cupcake towers are essential party supplies for weddings, baby showers, bat mitzvahs and birthday gatherings!
Simple assembly and quick cleanup are important features for caterers or bakers on the go that require no-hassle equipment break down during busy service.
The exciting variety of prints and colors available such as pink, blue, striped, polka dotted and zebra print, make any setting come to life!
The multi-tiered bakery displays come in many styles which include more traditional platforms including classic white in small to large designs. Additionally, the cupcake displays are offered in whimsical variations for decorating birthday parties, baby showers, weddings and themed events. We offer these wedding cake trees at wholesale prices for the opportunity to stock up in bulk quantities at an additional savings. This collection has so many variations to choose from, there is certainly a style for any event on every budget! There are large (5) tiered displays to accommodate corporate events as well as smaller (3) tiered designed party dessert trees to outfit more intimate gatherings. Cupcake displays such as these party platters are the ideal catering accessory!
Why shop at Displays2go for POP displays?
Our company has been the #1 leading supplier for all merchandising display solutions since 1974. We offer thousands of cutting edge products for Point of Sale marketing that meet the demands of many industries.
Our online catalog is loaded with cutting edge product lines designed to help businesses merchandise their products with efficiency. This company is committed to producing innovative products at affordable price points to cater to any budget without sacrificing quality.
There are hundreds of product lines such as these cardboard cupcake holders to browse through which also include trade show accessories, poster stands, LED signage, mannequins, restaurant supplies, iPad stands, literature displays and much more!
Eye catching merchandising tools are essential to the success of any business. Displays2go has over a million units in stock with 98% of orders shipping out same day!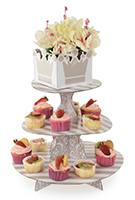 These cupcake towers are also great for residential use. Home owners often use the tiers for a decorative holiday centerpiece or to show off elegant baked goods during a brunch or dinner parties. The holders are a classic platter for finger sandwiches and petit fours. Make any event special with these fun dessert trees!
In addition to the affordable birthday party displays seen here, this website is home to a large variety of restaurant supplies. Make sure to browse through our expansive product lines here from Displays2go. This website is home to thousands of unique and effective marketing and POP tools for all types of business. Our ever expanding product lines also include literature displays, magazine racks, lobby signs, commercial TV mounts, LED signage, prize wheels and much more! Come by this site often to see all the new and exciting products we're offering! Please feel free to contact us at 1-800-572-2194 or by live chat with any questions you may have. Our friendly customer service agents are available Available Monday - Friday
8am - 8pm Eastern Time US. Buy from Displays2go for the most practical and affordable POP accessories today!