Retail Pegboard Wall Mounted Panels, Floor Stands, and Countertop Fixtures
---
Pegboard Fixtures and Accessories Create Customizable Retail Merchandising Displays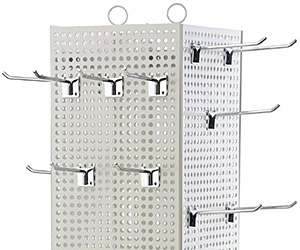 Looking for strong shelving fixtures that tailor to your store's needs? Retail pegboard is an excellent solution for shop owners to merchandise their products. Floor stands, wall panels, and countertop spinner racks are all effective organization tools that are fully customizable. Retail pegboard holds a large selection of hangable items in a condensed area and is especially useful at point-of-sale counters where impulse purchases are common. From rotating and floor-standing merchandisers to standard wall organizers, the wide selection offers plenty of options to meet specific needs. Store owners use retail pegboard to organize small wares such as candy packages, phone accessories, jewelry, and souvenirs. No matter the application, these retail store fixtures will give your customers a centralized, focused space to browse small-ticket items.
What types of merchandising peg boards are available?
Retail pegboard is available in two styles, depending on the material. Metal panels are thin, and require hanging hooks that measure 1/8" deep. Wall mounts and floor stands made from hardboard or MDF require hardware designed for thicker 1/4" panels.
Gondolas — Store owners can plan their entire floor layout with these versatile merchandising displays. Pegboard gondolas are used to display wares of all sizes, from toys and bagged snacks, to office supplies and large packaged food items. Create large storage spaces is possible in small small areas with these high-density merchandisers.
Spinners — Rotating floor stands and countertop displays create an easy browsing experience for shoppers. Customers love taking these fixtures for a spin to see what interests them. Spinners are widely used by souvenir shops and convenience stores to feature a large quantity of small items. Their metal fabrication also allows magnets to be displayed with ease. In addition, the expanded hole hook pattern (spaced every 0.5") allows for greater flexibility in spacing and layout to accommodate products of different sizes.
Wall Panels — These fixtures create a large space for displaying merchandise. Traditionally used in shops and garages for organizing tools, wooden pegboard wall panels have made the leap into stores and restaurants (donut walls anyone?) More affordable than slatwall, these wood mounts come in a variety of finishes to complement both traditional and contemporary décors.
Our peg hooks vary in length, color, and complexity. Most outlets will use simple open designs that make wares accessible. Electronic and department stores often prefer to use locking security hooks to protect valuable items. These accessories feature an enclosed magnetic lock that requires an employee for access. These hangers also lock to the board so they can't be stolen with all the products attached. Security hooks effectively display high-value merchandise without having to keep it hidden behind the sales counter.
With so much flexibility, it's easy to incorporate peg boards into any outlet. Gondolas and floor stands are larger fixtures that help display lots of merchandise in a small amount of space. Spinning stands are great to place near checkout stands to sell smaller, point of purchase products. Find more impulse item holders for chip bags, key chains, and accessories. Merchandising displays form the backbone of any retail establishment!