Art Display Panels with Wire Grid Mesh Design are Lightweight and Portable
---
Portable Wire Grid Art Walls Assemble and Disassemble for Convenient Transportation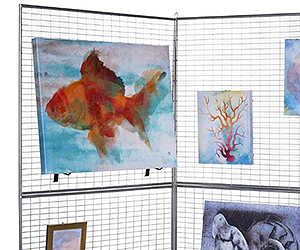 What is the go-to hanging system used at shows by more professional artists? Art display panels set up quickly and easily for temporary events. Whether the show is indoors or out, our gridwall system provides support for canvases, photography, and other items typically sold at fairs and festivals. These art display panels have frames made from hollow steel tubing. This allows sections to be stacked and secured together using the supplied cotter pins. The hanging area features a 2" x 1" wire grid pattern for attaching hooks or other hardware. Art display panels used for shows and fairs have to be lightweight and portable. These grid walls offer just that!
What do customers have to say about our art display panels?
Perfect — "This system is perfect for my needs. I am an artist just beginning to enter large art festivals. I am able to display 18-20 pieces of varying sizes. Easy to assemble, light enough for me to handle on my own. Great Product. Well worth the cost." — Carole on June 1, 2017
Display for Art Show — "I was able to travel in my SUV with all my art and these grids and set up easily with no help! Just a step stool and some ties for extra stability." — Shelley on September 28, 2016
Great Set Up — "We set this up the other day. Set up and take down was a very easy process and it held the art pieces well. Exactly what I needed." — Ember on March 26, 2018
Our wire display panels offer a few distinct advantages over the hook & loop-receptive or solid board-style racks. First, the mesh grid is super light, making transport to and from a show much more convenient. We can't stress this enough. The distance from your vehicle to the festival tent or booth can be considerable, so it helps to have the panels as light as possible. Second, metal fabrication is far more durable than other, less rigid materials. After frequent use, mesh panels will hold up better to wear and tear.
Artwork racks are available by the section. Purchase single panels or choose one of our pre-designed configurations complete with feet. With the exception of the countertop model, all styles feature two sections stacked on top of each other. Looking for more ways to hang your artwork? Grid hooks and hangers make displaying paintings, photography, or retail merchandise a snap.
Helpful information:
As with any free standing structure, care must be taken to make sure your setup is stable. Always assemble the display on a level surface. Weights can be placed on top of the feet if necessary. Connecting panels together in a zig-zag, U, or V-shaped layout will also aid with stability. When possible, balance your setup by hanging paintings or frames on both sides of the grid. If you are setting up underneath a typical pop-up tent, we suggest tying the panels to the tent structure. Large crowds and gusty conditions are other situations where a little security can go a long way towards maintaining a safe environment for everyone.