Outdoor Banner Stands with Permanent Mounts and Portable Weighted Bases
---
Surface-Mounted and Portable Advertising Stands for Vibrant Outdoor Graphics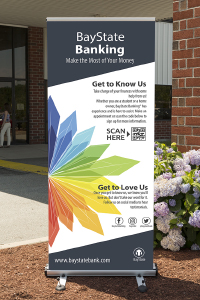 Do you need to make an impact with potential customers, clients, or passersby on the sidewalk or in an open-air space? With our outdoor banner stands, you can display beautifully vibrant, full-color graphics in front of your car dealership, drive-thru restaurant, or around your booth at a trade show or farmer's market! We offer both surface-mounting frames for permanent placement with unrivaled wind resistance, as well as portable signage with weighted bases that can be moved around with ease. No matter which option you choose, swapping the advertising materials on your outdoor banner stands with custom graphics is a breeze. Choose the size that's right for you and either use print materials you already have on hand or order some fresh ones with our easy artwork upload process. Some of our portable styles are adjustable in height and width, allowing for a range of sizes to work with a single unit. No matter where you are, our heavy duty outdoor banner stands are sure to draw the attention of visitors and bring more traffic to your business.
Where can freestanding outdoor signage be used?
Permanent-mount frames — With their sturdy construction and hard-surface fasteners, these outdoor banner stands work best at locations with more space, like car dealerships, drive-thrus, college campuses, and parking lots. While a bit more work is required for setup, these fixtures are designed to last and will generate revenue for years to come. The fasteners attach firmly into concrete, wood, and other hard surfaces to keep the stand upright even in less-than-ideal weather conditions. Even after this display is set to the ground, swapping out the graphics is easy, meaning you're not stuck with the same old artwork year after year. Update as you would any other sign frame, with new promotions, fresh branding, or any other message your business needs to get across.
Portable, weighted-base frames — Whether you're looking for versatile signage at your retail store or constantly hopping from one event to the next, these sturdy stands for temporary placement are the way to go. Each unit is designed to stay put through heavy foot traffic and light wind by utilizing either a water-fill base or spikes for soft ground placement. These banner stands are great for sidewalk sales, placing in front of your booth at a trade show, conference, or pop-up food event, or anywhere else you need some short-term outdoor advertising. Choose retractable styles for even greater portability — a great option for those with a busy event season ahead!
Banner stands are tried-and-true marketing tools for businesses of all sizes, from one-person food trucks to restaurant franchises. However, they're not the whole story when it comes to effective, eye-catching advertising. Mixing up your visual marketing with big, bold fixtures like 17-foot tall flags for outdoor placement can make a lasting impression and reach potential customers from even further away. No matter how you decide to capture the attention of passersby, Displays2go has custom-printed banners, posters, and more to suit your needs.