Custom Podiums with Vinyl & UV Printed Logos, Graphics, & Messaging
---
Podiums with Custom Printed Graphics for Brand Messaging, Logos, & Signs
Looking to create brand messaging during a presentation? Custom podiums can provide a benefit for many speaking engagements by showcasing a company's logo or image. Enhance speeches, trade show presentations, sermons, and other lecturing environments by presenting your brand on the front of a pulpit.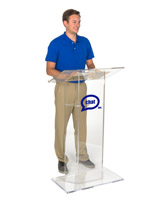 Custom podiums with built-in signage help reinforce brand messaging. Feature your company identity at public, corporate, or commercial events. Displays2go offers a wide variety of customized speaking stands. This includes tabletop sizes as well as full-size pulpits with vinyl or UV imprints. Our newest line of high visibility custom podiums features LED-illuminated graphics. These can be changed when needed making these fixtures a perfect choice for conferences, trade shows, and shared facilities.
What types of lectern graphics are available?
Custom podiums with vinyl imprints are designed for text or simple vector graphics. Customize yours with the artwork you choose in one or two-color designs. Ten different PMS colors are available to accommodate branding needs. This type of imprint can be applied in two different ways: directly to either side surface of the speaking stand or to a front panel that's attached to the fixture using standoffs.
UV printing is used to create front lectern panels with branded graphics. This features full-color, photographic-quality reproductions printed on the reverse side of the front panel. UV-printed graphics are durable and fade-resistant. This makes this signage ideal for deploying high-resolution brand or campaign imaging.
Printed vinyl banners help speaker stands stick out in high traffic areas, especially attracting attention at public events. Digital printing offers photo-quality reproduction in full color while durable vinyl banner rolls up for transportation and storage between uses.
Podiums with built-in sign frames are ideal for use in shared facilities or for businesses that frequently change advertising messages. Illuminated models feature built-in LED backlighting. This ensures maximum visibility for images. It also offers an elegant, modern look that attracts attention in any environment. Businesses and organizations that attend off-site events prefer a lightweight, portable presentation stand. Our simple snap-frame enclosures are designed for easy transport. The user-friendly design makes it easy to swap out posters as needed. The clear plastic lens protects your printed graphics.
Our most versatile customized speaking stands feature DIY podium signs. This signage comes straight from a laser printer. The printed sheets accommodate any message or graphic. Simply slide the signage into the sandwich-style poster framing. This type of personalized signage is a cost-effective choice for many settings — especially those in shared facilities like schools, offices and other communal environments.
Displays2go's wide selection of customizable presentation stands includes many different styles. Each caters to the needs of corporations, business, government, religious organizations, and schools. Models range from ultra-modern LED-illuminated presentation fixtures to simple acrylic lecterns. Aluminum, MDF, and wood sides or accents in a variety of finish colors. This ensures that any business or facility can find a podium that matches both decor and design. Many styles are designed with ease of setup, transport, and even storage between uses in mind allowing users to adapt to off-site use for trade shows, launches, or promotional events. We also offer add-on PA systems for those addressing larger audiences. These units are available in both wired and wireless styles. Shop online at Displays2go to take advantage of quick shipping and low prices!