Slatwall Counter Displays - Commercial Merchandise Holders
---
Countertop Slatwall Displays for Hooks and Shelves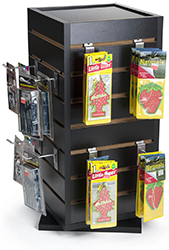 Need a great merchandise fixture that fits on a tabletop? These slatwall counter displays make convenient showcases for products when there's only so much room. The towers have multiple sides with slat panels for attachments like hooks and shelves. Slatwall counter displays are excellent for featuring a large quantity of merchandise in a small space. Place the racks by the cash register or on top of shelving around the store floor. Browse our selection of slatwall counter displays offered in a variety finishes and styles.
What makes these merchandise fixtures special? Each of the slatwall counter displays has a spinning design that allows customers to see more items in one place. The towers are made of melamine panels and are available as four-sided "cube" models and double sided boards. Choose from standard grooves or strengthened Armor Core channels that can hold more weight if you choose to feature heavy duty products. The slatwall counter displays are offered in a number of finishes including black, white, and cherry.
The tabletop spinners are excellent for featuring smaller merchandise where it's impossible to list. Use the counter displays to hold jewelry and accessories in high end stores. Small items like makeup are perfect for the fixtures as each unit shows them next to each other for easy comparison. Keep souvenirs like novelty keychains and ornaments where customers can easily find the one that appeals to them. The spinning counter displays are likewise ideal for keeping impulse items like candy and small toys by the register. You never know what a customer might decide to include with their purchase!
Ready to put your spinning store display to work? Browse our wide selection of attachments and accessories that are tailored to featuring different types of products. Small hooks are perfect for these countertop displays because they're the right size to feature smaller items like makeup, candy, and toys. Looking to sell magazines or dispense pamphlets? Try our literature pocket attachments that have a clear design for maximum readability. All of these displays and add-ons are offered with quick shipping and wholesale pricing on Displays2go.com.