Frameless Display Cases Provide Increased 360° Visibility & Elegant Styling
---
Frameless Retail Display Cases Feature LED Illumination and Locking Shelves
Are you a merchandiser looking for a stylish way to showcase your most valuable products in a retail or specialty store location? These frameless display cases have a sleek, contemporary, design that is sure to capture customers' attention and highlight quality of your wares. Product placement is highly important in any retail environment, so presenting stock in these fixtures with 360° visibility ensure your guest can't miss what you have on the shelf. Our frameless display cases are elegantly designed with top-quality materials and are suitable for retail stores, museums, art galleries, and even home collection showcases nicely. Allow customers to view sale items, memorabilia, antiques, and collectibles with an unobstructed view.
These frameless display cases are some of our most contemporary, minimalistic, fixtures. Even though these cabinets aren't hampered by frames or edges, our showcases are multi-faceted and durable. Each frameless display case is built with shatter-resistant tempered glass panels, which in the case of an accident, will break into round manageable pieces as a safety measure. Steel brackets hold the glass sides together at the edges and some units even feature locking hinged doors for added security. Most display cases, however, will include a base made of MDF or metal for added durability and safety towards the floor. If you want to let your merchandise shine out from every direction of its display, please do consider purchasing one of these full vision showcases!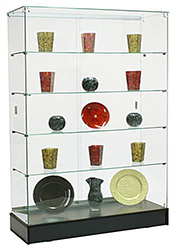 What styles of full vision showcases do we offer?
Traditional showcase models are multi-tiered fixtures that feature 4-5 glass merchandise shelves. These tall standing display cases are typically placed directly against a wall, but given the high-visibility of glass panel construction, they also function incredibly well in the middle of the sales floor.
Counter retail displays are most commonly used to shopfit retail environments. Merchandisers use these units, featuring up to 3 shelves, to showcase cohesive product lines. Use these fixtures to entice purchases at checkout, protect valuable stock, and create unique floor plans. These full vision options have no storage compartments, which is great for retailers who want the most visible shelf space possible to present their products.
Table units are great for jewelry stores or for any location that wants to showcase a limited collection on a single focused shelf. These display cases offer professional front, side, and top views to your customers and are a great way to feature high-end products.
A pedestal showcase is a small, freestanding, display case that is ideal for demonstrating a single one-of-a-kind item. These fixtures feature an MDF base, and a locking tempered glass top. Use this case to bring a unique product, collectible, or artistic piece into the limelight.
Utilizing professional retail merchandise cases can bolster sales by giving customers an improved shopping experience. These secure fixtures come with a lock and key system to ensure that products are protected from damage or theft. Many cases feature LED lights, which illuminates stock in low-light settings. These displays are great for retail stores, specialty shops, jewelry locations, and collectible hobby shops alike. By utilizing the variety off retail store fixtures offered on our site, merchandisers can suit the promotional needs of their full line of products, with the added benefit phenomenal style.