Wall Mounted Phone Charging Kiosks for Powering Multiple Devices
---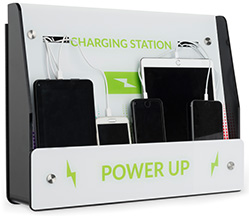 Phone Charging Kiosks that Mount to Walls
Want to accommodate modern customers and their mobile devices? These wall mounted phone charging kiosks create convenient spaces in restaurants, waiting rooms, schools, and office lobbies where smartphones can recharge. This is ideal for showing visitors that you care about their needs, while discouraging them from leaving to charge their battery. Wall mounted phone charging kiosks are available with both open and locking designs for both private and public areas. Our iPhone and tablet docks additionally include optional advertising space to promote your brand or the recharging stations themselves. The wall mounted phone charging kiosks help both modern patrons and the businesses they frequent.
What recharging station mounts are offered and how do they help organizations?
Wall mounted phone charging kiosks with a locking design are excellent for securing electronics in schools and offices. Our sturdy metal lockers with one compartment are made to store tablets and laptops. This is an efficient solution for creating a productive environment by supplying students and employees with electronics. When it comes to securing people's personal belongings, device lockers with multiple locking compartments are the best choice. These mounts safely store smartphones in classrooms, doctors waiting rooms, and other organizations with cellphone policies.
Our wall mounted charging kiosks with a single open shelf feature a sleek design that's great for retail stores and restaurants. These recharging stations are made of acrylic featuring pre-printed artwork and silver standoffs. In addition, each model includes personalized text imprinting for displaying company names and promotional messaging. Our fully custom printed wall mounted charging kiosks showcase full color company logos and high quality artwork. The displays' trendy appearance and modern appeal easily attracts attention and lets customers know that they can refill their battery here. These versatile fixtures can also sit on countertops when needed.
We also offer mounted charging kiosks with multiple shelves as well. This style features clear acrylic pockets in different sizes as well as graphic sleeves on each side. These device recharging mounts also come with a choice of pre-printed or custom graphics for promotional messaging. In addition, each display includes a 17" x 11" sign holder header for featuring changeable images. This style also benefits from a locking front panel that prevents charge cable theft.
How do you accommodate all of the different devices that customers and students will have? Each of these mounted charging kiosks includes power cables with both Apple® Lightning and Micro USB heads. These ports cover most of the popular smartphone models available today. For more options, supply your own cords and simply plug them into the fixture's USB ports.
These courtesy charging kiosks are great for accommodating modern customers and their devices while saving floor space. However, there are always new smartphones with new technologies coming out. For the latest touchscreens, our wireless recharging tables are perfect for their form and function. These compact countertops feature inconspicuous pads for powering compatible smartphones wirelessly.