Wire Store Shelving Displays Multiple Levels of Books, Food, Gifts, Toys & More
---
Wire Store Shelving for Easy and Effective Retail Merchandising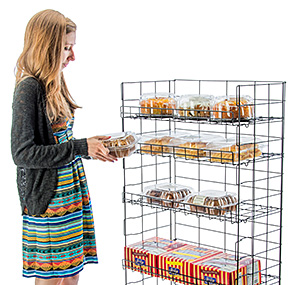 Short on affordable, multi-use retail displays? Wire store shelving has long been a staple of brick and mortar businesses, including grocery stores, gift shops, convenience stores, bakeries, department stores, and more.
Why are wire display shelves so universally used? Store merchandisers love their straightforward, affordable design and construction, which gives them more freedom in what products they display and where. Wire displays put the focus on merchandise, not the display itself. Customers can clearly view products without obstruction and easily grab items. Its simple utilitarian style means it won't clash with your existing fixtures, making it an easy addition to your store setup.
When it comes to preserving floor space, wire rack fixtures are a great bang for your buck. They take up a small footprint while providing ample display space, keeping inventory out of the backroom and on the sales floor. For even more flexibility, some include wheels for quick restocking and positioning. Having the ability to easily and effortlessly reconfigure fixtures allows store layouts to constantly stay fresh and updated.
One of the most popular uses for wire retail shelving is to promote impulse buys. Place these displays near queue lines and point of purchase to display snacks, beverages, batteries, toys, beauty products, and other items customers always reach for. For a more effective setup, pair with spinning racks and wire countertop stands.
POP displays aren't their only function: these fixtures can be placed almost any where in your store. Set up in the center of a large aisle, the entrance to your store, or near showcases. Metal wire retail displays are sturdy enough to withstand the rigors of high traffic areas.
At Displays2go, we're dedicated to providing affordable and versatile store fixtures (like wire retail shelving) for all businesses. With our expansive selection, we have something for businesses of all sizes - from big box stores to small boutiques. Build the perfect retail setup with quality fixtures and store shelving from Displays2go.