Outdoor Crowd Barrier Posts Help Regulate Safety in Public Areas
---
Outdoor Rated Stanchions - Ideal for Restricted Areas & Crowd Control at Events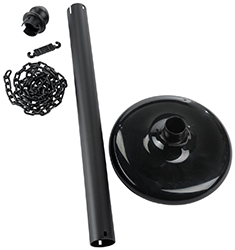 Are you looking to regulate traffic at an event or keep a restricted area secure? Our outdoor crowd barrier posts make it possible to do just that! These plastic pylons come in a variety of styles to fit any exterior environment. From amusement parks and construction zones to outside trade shows - there's a barrier post to effectively control foot traffic. Construction sites and warehouses make use of our outdoor crowd barrier posts when a work site needs to be roped off or to mark a dangerous area to the public. Store fronts, playgrounds, and restaurants use our plastic posts to line entrances, or to fence in areas. Outdoor crowd barrier posts are durable enough to withstand the elements. They are also portable and lightweight. This makes them easy to move around or used for travel at trade shows.
What types of outside stanchion systems are available?
Plastic outdoor crowd barrier posts with a 6.5' linked chain are available in black, white, yellow, blue, and orange from our QueuePole.Outdoor collection. Our models are ideal for recreational settings like parks or zoos. With them, users are able to frame walkways and control large crowds. These fixtures have the ability to be weighed down with sand for extra durability, and are easily assembled. They're also rust-proof and fade-resistant to keep their bright color.
Plastic ground spike models are attractive and durable. Like the QueuePole.Outdoor collection, color options include black, white, or yellow. They also come equipped with a 6.5' linked chain. These posts can complement a budding garden, or to line the front of an establishment. These rust-proof units can also be utilized in outside events like weddings or performances to control large groups of guests.
Our QueuePole.Outdoor collections with the fillable weighted bases also have the option of pre-printed messages. These messages include "Caution", "Do not enter", and ones containing a handicapped symbol. Place our barrier posts in the environment best suited for its message. This can include different construction areas to keep out the public or inform workers of hazardous spaces. Large outside event venues can benefit from these pre-printed models as well.
Collapsible aluminum structures give users the ability to have an easy set up and breakdown of an event. Quickly build a safety barricade with a simple twist and lift motion. Our models are ideal for temporary venues. These include outside concerts, carnivals, weddings, or trade shows. This model can be packed away at the close of your event with ease. For added convenience, use the included carrying bag with the adjustable shoulder strap.
Construction rated access systems are ideal on work sites and at warehouses to build temporary restricted areas for safety purposes. Cones come with or without belt toppers and contain 10 ', 15' or 30' retractable bands. Both cones and toppers are sold individually as well for easy shopping.
Regardless of the stanchion style you choose, we are confident that any selection will be helpful in assisting you to create restricted areas, regulate large groups of people, or provide safety in a work zone. The various types available make it possible to fit any environment, and are easy to put together. Many businesses use these structures as the backbone of their crowd control setups, as well as ways to fence in gardens or walkways. At Displays2go we pride ourselves on quick shipping, and we know you'll be satisfied with any purchase from our large assortment of stanchions!