Rolled Trade Show & Event Carpet - Portable Exhibit Flooring
---
Portable Rolled Carpets for Trade Shows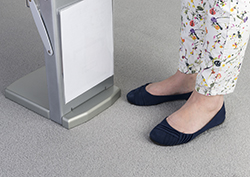 Where can I buy rolled trade show & event carpet? We've got you covered. This comfortable flooring is perfect for your exhibit booth because it eases the pressure on exhibitors' feet. It's going to be a long day advertising your company's services and promoting your brand, so why not do it with some extra support? This rolled trade show & event carpet makes it easier to stand for hours on end, and also creates a welcoming environment for attendees. Choose this soft matting over hard tiles or the convention hall floor to guarantee that both employees and visitors can engage with comfort. Browse our selection of rolled trade show & event carpets that are perfect for completing an effective commercial display.
Why buy portable convention flooring for an exhibit?
Rolled trade show & event carpets are available in a variety of colors to match any company's branding and round out the look and feel of a polished booth.
This matting is offered in two sizes to fit standard booth sizes: 10' x 10' and 10' x 20'. If you booked a 20' x 20' area for your display, you can easily configure two 10' x 20' pieces to fill your whole area!
The 10' x 10' unit ships as two 5' x 10' strips that each weigh 20 lbs. The mats are unbound, creating a professional, seamless appearance when they're placed.
The rolled trade show carpets are made of 100% nylon fibers. This durable fabrication ensures long lasting quality through travel and exhibition use.
Our mats are highly portable with a simple rolling design. The 5' x 10' strips are easier to transport than a full size rug.
Rolled trade show carpets aid in reducing standing fatigue much like our interlocking foam tiles. However, this matting is different, featuring the welcoming soft touch that makes rugs comfortable to stand on. Oh, and it doesn't get any easier to set up. Simply roll out the trade show carpets and line them up for a clean look that invites attendees in to see your promotional display.
Do I need anything else to go with my portable convention flooring?
Trade show carpets with a layer of padding underneath are even more comfortable. That's why we offer a rollable polyurethane foam underlay for extra support. These are 0.25" thick and totally reusable!
Try our double sided tape for extra traction with rugs and padding. This adhesive is designed especially for use with rugs and leaves no residue when removed.
Make transportation easier with one of our soft canvas bags that can fit two 5' x 10' rolls each. They even have a little extra room for smaller items like tape!
Portable booth carpets are ideal for completing your exhibit because they let you to reduce strain while adding to your décor. They're also certified for low emissions, meaning they won't emit volatile organic compounds or formaldehyde. This is especially important for closed areas like exhibition halls where chemicals can build up.