Museum Exhibition Barriers Look As Good As the Objects They Protect
---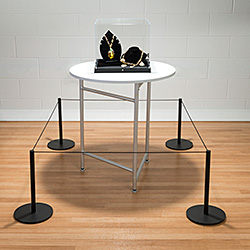 Upscale Museum Exhibition Barriers Available in Short or Tall Models
When a valuable show car or work of art requires protection while displayed, not just any crowd control system will do. Our museum exhibition barriers offer the stylish design one would expect to see in a gallery-type setting. Traditional post and rope stanchions and retractable belt models are too bulky in these situations. What's needed is more subtlety and less distraction. These museum exhibition barriers provide this with elegant form and function. From their slim posts to the ultra-thin cording, the word "understated" comes to mind. This is advantageous because the attention should be focused on the object(s) on display, not on the people barrier.
What are the main selling points of this refined crowd control system?
We offer these museum exhibition barriers in two neutral finishes: black or brushed stainless steel. The elasticized cords also match the chosen finish color.
The 39" tall stanchions are primarily designed for queueing crowds or directing foot traffic at ticket counters, checkout lines, and so forth. This isn't to say they couldn't be used to cordon off exhibits, as they certainly can.
The low 16" versions are better suited for surrounding free-standing objects in a perimeter fashion. Due to their low heights, they avoid becoming a visual distraction or obstruction while still providing crowd control. The same can be said if they are used in front of wall hangings such as paintings or other artwork. They'll keep the public back far enough without coming between the viewer and the work of art.
In lieu of ropes and belts, our q-cord barrier system uses elasticized cording. Available in 50 and 100-foot lengths, this durable cord runs from post to post in a continuous line. The completed effect is both seamless and sophisticated. To secure the cord to the post, a simple screw cap holds it (and the tension) in place.
There might be a situation where a barrier needs to terminate at a wall. We sell wall-mounted plates that dead-end the cord discreetly. Not only is this a clean and simple solution, it's also a cost-effective one. Without these wall plates, extra stanchions would be required, therefore increasing your cost.
Each individual component is available for purchase separately. However, we've put together a number of packaged kits depending on how many stanchions are required for your application. These kits include the stanchions, a spindle of cording, and/or wall plate receivers (if needed).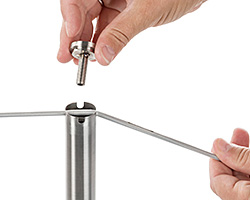 Helpful Guidelines:
When you are ready to install your new crowd control system, it's important to be aware of visual harmony. If the object is important enough to require one's full attention, then the barrier should complement that. Evenly spaced stanchions are a requisite. Make sure each post is the same distance from each other, and exploit symmetry wherever possible. Make an effort not to overcrowd the object. For best results, stanchions should be spaced approximately 5 to 6 feet apart. We highly recommend using the wall mounted receivers on layouts used in front of hanging artwork. It offers a minimal and discreet way to close off the barrier while preventing viewers from walking behind the line.
Whether cordoning off an area or directing foot traffic, crowd control systems are necessary, organizational displays. A well-designed layout eliminates confusion and improves crowd flow, which explains why they are seen in public spaces such as lobbies, galleries, and airports the world over.