Touch Screen Kiosks with Multi-Touch Capability
---
Transform Your Business with Interactive Floor Standing Digital Displays
---
How did Displays2go one-up our top-selling multimedia floor signs? We've added interactivity! Touch screen kiosks are now available in our wildly popular digital sign stand line. You get all the same features — Android OS, 1080p resolution, modern styling, and content management options, but now we've included touch screen technology. What does this added functionality mean? These digital floor kiosks not only provide better convenience for you (the business owner), but they also produce a better overall customer experience. Offer people the capability to tap through unique, personalized digital media not available on their phone. Our touch screen kiosks can deliver powerful content that resonates with the public. "Connectivity" is what helps associate your business with potential customers, and these electronic displays make marvelous tie-ins for marketing. This large format technology is moving in one direction — forward. Complete your digital transformation with one (or more) of our freestanding kiosks!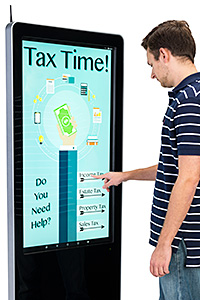 Our Touch Screen Floor Signs At A Glance:
Please Note: This product does not support Windows interactive content. It features a Wifi and Bluetooth enabled Android 5.1 smart operating system.
Easy setup experience with a touch of the finger.
Optional DisplayIt!Xpress content management software. Please Note: DisplayIt!Xpress does not create interactive content, the customer is responsible for their own multimedia development.
Each model comes with a plug & play slideshow app that allows users to add and store content on the hard drive. You can also preset slide transitions and control the timing.
1-Year Warranty.
Making Life Easier for the Business Owner
Our non-touchscreen sign stands have been very popular with customers. Nothing else comes close to their contemporary design, sleek appearance, and price. However, uploading and setting up digital content requires the use of a connected mouse in order to select your apps. Conversely, these new touch screen kiosks do away with this by providing on-the-fly updating. With nothing to connect, the owner can simply walk up to the digital display and start tapping. Using your finger or the included stylus, you can select and program apps much like you would on any smartphone. Easy, interactive setup is the main selling point here, and it's a big one.
Offering Multi-Touch Content for the Customer
The LCD display features not 2-point but 10-point touch capability. Multi-point touch screens work by sensing multiple contact points across the screen's surface. This gives the user better accuracy and response, which explains why it's implemented on most of today's deluxe tablets and smartphones. For the average person walking up to your kiosk, discovering the touch screen feature creates instant engagement:
Provide shoppers with an interactive mall directory.
Lead patrons on a gastric quest for discovery with a digital restaurant menu.
Post notices, schedules, and upcoming events at educational institutions.
Furnish an informational presentation about your company's history in lobbies or trade shows.
Display services and plans at hospitals, family practice centers, spas, and salons.
From a business standpoint, it's imperative to remain relevant and competitive in an increasingly digital world. While this transformation means something different to every company, integrating new technology into all areas of operation is resulting in profound changes, even down to the cultural level. This isn't something that can be done, it has to be done in order for a business to survive. Delivering value to your customers is a lot different now when compared to the old analog way of doing business, thanks to the speed of technology and what today's customer expects.