Custom Trade Show Tower Displays Up To 17 Feet Tall Grab Attention!
---
Freestanding Exhibition Towers with Custom Printed Graphics in Many Styles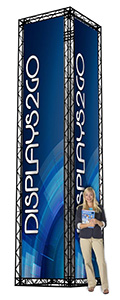 To rise above the competition at any given event, exhibitors need to stand out in a crowd. With custom trade show tower displays, the sky's the limit! Topping out at a maximum 17 feet high, these unavoidable fixtures will attract convention-goers from distances away. Our custom trade show tower displays offer full-color graphics albeit in a portable package. Set it up and knock it down quickly and easily. Another advantage to these free-standing fixtures is their lightweight design which makes them perfectly suited to expos and conventions. Augment your trade show booth with a portable custom printed tower and start realizing the benefits of a larger-than-life visual beacon!
What kinds of free-standing exhibit displays do we offer?
Starting with the tallest of the tall, 17' trade show truss towers provide the grandest focal point for your large booth or event. This modular system is engineered for maximum strength in a compact design. The assembly process is very intuitive with no tools required. Sections screw together with simple connectors for fast results. The four-sided structure also includes custom printed fabric panels and an optional transport case.
Convention centers offer cavernous halls for trade show displays of all sizes. However, not all venues are built alike. Shorter towers are available if your venue isn't tall enough to accommodate a full 17 feet. Auto dealerships, building lobbies, and retail showrooms are just a few examples. We sell a nice variety of four and three-sided towers ranging from 8 to 12 feet in height.
If you are exhibiting inside a 10' x 10' trade show booth, the structures mentioned above may be too overpowering for such a small space. Our third tier of towers ranges from 6 to 8 feet and offer quite a few different designs. Models with tension fabric are a popular choice. The printed graphics slide over frames made with aluminum piping for a smooth presentation. Choose a simple, straight stand or opt for the fancier curved serpentine models. Round LED columns offer a unique take on the tower design. These feature thin custom printed acrylic panels that wrap around a lightweight frame. The backlit LED illumination offers a wide range of colorful lighting options.
What makes free-standing displays so attractive is how they are utilized within a three-dimensional space. Show attendees and salespeople alike can walk around these fixtures to view promotional content. Tower displays with multiple sides offer more real estate for large-format graphics — all while occupying a small footprint. Use them as the focal piece at public events or to complement other exhibit features like stretch-fabric graphic walls. Deliver your message with the right exhibition tools from Displays2go!