Custom Printed Acrylic Sign Holders Extend Your Brand's Reach!
---
Countertop UV Printed Table Tents Add Promotional Value to Any Business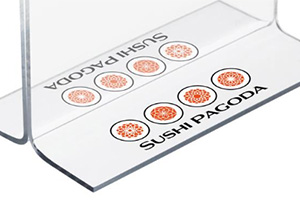 What is a better way to market your establishment using tabletop sign displays? By advertising with your company's name! Custom printed acrylic sign holders help increase your business's exposure. Emblazon your logo, slogan, or both onto promotional table tents in full color. Our in-house UV printing service provides the high resolution necessary for producing fine details at the smallest level. These custom printed acrylic sign holders for tabletops require it! Perfect for marketing food and drink specials or retail products, our clear frames accept most of the standard menu card sizes.
What options are available regarding these promotional displays?
Acrylic sign holders for countertops feature two ways to insert your printed cards — top-load and bottom-load. There really isn't that big a difference between the two styles. However, they both have an advantage over one another depending on your application. Bottom-loading frames make it easier to swap out a card, thanks to the wider opening at the base. In contrast, you'll need to separate the top-loading holders by hand before inserting. Another aspect to consider is if these will be placed on wet surfaces, like on bars or dining tables. If that is the case, we highly recommend choosing top-load sign holders. These models keep the inserted card up off the table surface, where moisture wicking could occur.
Our UV printing service offers vibrant, full-color results for your corporate identity. We will match specific PMS colors to the best of our ability. The scratch-resistant ink is applied permanently to the acrylic surface. You have the option of printing on one or both sides of the base (most customers go with both sides so their logo is always visible, no matter how the sign is displayed).
You may have noticed the products listed above refer to "frosted" or "polished" edges. Think of it as "standard" vs. "deluxe". A frosted edge is the raw result after cutting the acrylic plastic on our table saws. Tooling marks are visible, but the effect is subtle and not very noticeable. Polished models are achieved via our diamond-edge machine finishing. These tools produce edges just as shiny as the acrylic face. For an extra dollar or two per piece, the end result is a better-looking sign holder but it basically comes down to personal preference.
As with most custom-print orders within the industry, there are minimum-order quantities required. Most of our offerings start at just 50 or 100 units. However, this really isn't an issue since customers buy acrylic sign holders in bulk anyway. Think about restaurants and the number of tables that each need a countertop menu display. Or the retail store requiring signs with sale pricing on top of every merchandise rack. And the regional chain needing bulk orders to distribute to 60 individual locations? Let Displays2go supply you with the customized sign supplies needed for your business. In addition to these promotional advertising tools, we also offer custom UV printed brochure pockets for distributing free literature. By sharing the same graphics, they make great "go-withs" when used together with our table tents!