Specialty Business Flags with High Visibility Stock Printed Messages
---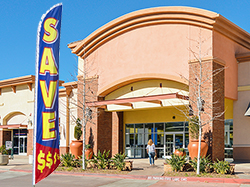 Outdoor Advertising Flags for Specialty Businesses
Looking to attract attention to your organization with affordable banners? These specialty business flags are great for advertising a variety of outlets and their services. Our large outdoor displays are excellent for bringing in customers and patrons from the street. The specialty business flags feature a variety of pre-printed messages for convenience stores, beauty salons, and tax service offices. These waving advertisers use bold text and bright colors to appeal to traffic, both on foot and in vehicles. Choose specialty business flags to stand out from your competitors on the road.
How are these pre-printed advertising banners used?
Specialty business flags are often used to inform passersby about specific services. Convenience and grocery stores can attract walk-ins with "ATM Inside" messaging. Giving people more reasons to enter the location is a great way to increase purchases. Our "Tax Service" banners are excellent for accountants and financial institutions that need a boost in customer exposure, especially in early spring. Use a "Notary Public" display in front of a bank, library, or government office to show that employees are qualified to officiate important documents. These outdoor advertisers bring in passersby in search of certain services, opening the door for increased sales and profits.
Our business flags feature signage for a wide variety of industries. The "Barbershop" and "Beauty Salon" banners are ideal for increasing exposure for haircare specialists. Whether you're advertising haircuts or full body massages, these pre-printed outdoor displays will garner interest in your services. Retail establishments like antique shops and florists can find special advertising that's perfectly suited for their industry. The "Flower Sale" artwork features roses on a bright yellow background for an unmissable appearance. Child care centers will attract parents with vibrant "Daycare" graphics that feature a kid-friendly smiling sun. This colorful, high visibility signage makes sure that your location isn't missed in the plaza or strip mall.
These pre-printed business flags also include limited time use messaging that any retail outlet will need at some point. The simple "Save" banner is ideal for promoting sales events. However, this signage doesn't specifically say that there's a limited time offer. If your organization simply has the better deal than your competitors, this will let passersby know! Our "Now Hiring" displays are great for searching for potential employees. This will get people to come in and fill out an application and leave their resume.
Our affordable retail flags are made for outdoor use, featuring strong polyester fabric and ground spikes for placement. These strip mall advertisements are made to be planted in grass, dirt, and mulch. This method keeps the displays firmly in place while the messaging flies in the wind.
All of this affordable outdoor advertising is pre-printed with text and artwork for specific industries. Want to feature your own advertisements on these high visibility banners? Our custom printed feather flags are imprinted with personalized graphics for logos and promotional messaging. This allows your signage to match your brand to a tee, and is offered with a variety of base options.