Custom Signs for Stanchions - Crowd Control Pole Signage with Full Color Graphics
---
Stanchion Signs with High Quality Custom Digital Printing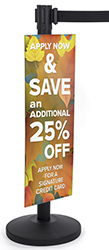 Looking for custom signs for stanchions to add marketing messages to your crowd control system? Our personalized graphics options are made to fit on 2" to 3" diameter posts, no matter the brand. These messaging displays for stores and banks are excellent for turning queue poles into billboards for merchandise and services. Each custom sign for stanchions rounds down the height of the post and is held on with the included cable ties. This ensures that the crowd control advertising will fit most poles, including ones with retractable belts and hanging ropes. Custom signs for stanchions feature personalized graphics with slide-on flat signage or bollard-like sleeves to encase your crowd control fixture in branded marketing material.
What are the benefits of this crowd control post signage?
These custom signs for stanchions include full color digital printing. Any company can feature their logo and tailored advertisements exactly as they want. Our digital printing process creates high quality graphics with vibrant, eye-catching colors. UV light quickly dries the ink to reduce scattering, creating artwork with higher definition than other imprinting styles.
The personalized signs for stanchions have large displays compared to other crowd control advertising. These units measure 13" x 30" for more coverage on queue line systems. However, they're featured lower than signage placed on top, which is closer to customers' line of sight. Our pole topper advertising for QueuePoles includes graphic frames, dump bins, and umbrella hooks — all easily within reach.
The universal signs for stanchions are made to fit on any post that measures between 2" and 3" in diameter. They're easy to install too. Simply fold the loops at the top and bottom of the signage back and wrap them around the post. Tie them together with the included cable tie and your advertising is ready. Other models include a 4-panel sleeve placed directly over the pole with side cut-outs for the belt.
Each universal crowd control post sign is made of strong corrugated plastic. This material features high durability at an affordable price. The Coroplast boards are waterproof so they can be used both indoors and outdoors. The included cable ties are also made out of water resistant plastic. Both black and white hardware is included to match different queue systems.
These checkout line signs with full color printing are excellent for advertising. They feature ads in an area where customers are sure to see them. Banks can feature graphics in the line for the counter for new services. Retail stores can announce hot new merchandise and upcoming limited time sales events. Quick service restaurants can also promote new items on the menu or their value selection. Whether you are looking to add slide-on signage or stanchion sleeves, our personalized marketing displays will be sure to boost your brand's recognition and marketing potential. Place signage right by the point of purchase with these line displays.