Illuminated Bottle Shelves Enhance the Back Bar with Glowing LED Lights
---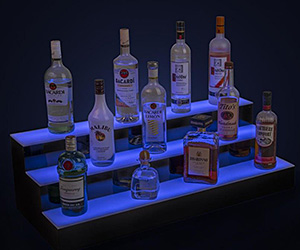 Multi-Tiered Liquor Bottle Glorifiers in Three Available Widths
The back bar is traditionally reserved for displaying all your alcoholic offerings. Illuminated bottle shelves not only save valuable space but also enhance the overall presentation! Coordinate with the color scheme of your establishment or change with the holidays thanks to the internal LED strips. Illuminated bottle shelves help elevate a bar's visual ambiance with soft, glowing light. This is especially true in dark-lit interiors like nightclubs. Nothing sets the mood better than cool, mesmerizing color. Multi-tier illuminated bottle shelves will motivate your patrons to spend more money on drinks. Increase revenue while providing customers a fun and entertaining night out!
What makes these tiered LED liquor glorifiers so popular?
Our illuminated bottle shelves are manufactured from 100% acrylic. The back bar environment is filled with drips, spills, and splashes, so you don't want any other kind of material used in its construction. The stands feature glossy black sides with translucent white tops. All exposed edges are machine polished. When the time comes to clean the tiers, the seamless construction makes wipe down quick and easy.
The internal LED illumination features 16 color-changing cycles, managed via the remote control. In addition, programmable light effects like strobe, flash, and smooth blending provide further enhancements. The intensity can also be adjusted which lets you set the perfect amount of "glow" for your bar or club.
Bottle shelves are offered in 2, 3, and 4-tiered models. Each shelf is 5" deep and is available in 24", 36", and 48" widths. Bottle capacities are an important consideration which will dictate how many models are needed. Using a three-tiered display as a yardstick, the 24" model accommodates 18 bottles, the 36" (27), and the 48" (36).
Each liquor display comes with a 57" power cord. However, the bottle shelves feature battery-powered capabilities! Once charged, the racks can stay illuminated for up to 12 hours. This great feature enables them to be used at outdoor gatherings, impromptu parties, or other locations where electrical outlets may not be available.
While most bar owners will use LED bottle glorifiers for countertop applications, the racks can also be wall mounted. As an added feature, integrated wine glass holders are located underneath the tiers.
Incorporating full-color LED bottle displays in your place of business is simple yet satisfying. All models ship fully assembled for quick plug-n-play operation right out of the box. Thanks to the tiered designs, the raised bottles offer faster label recognition for busy bartenders. But more goes into mixing a cocktail than just the alcohol. The back bar is made up of many different dispensers and racks designed to accommodate incoming drink orders. Bar caddies and organizers are bartending essentials. Items like napkin holders, swizzle stick containers, and condiment trays help keep the bar top coordinated and productive.