Trade Show Backdrop Frames for Hanging Graphics, Merchandise, and Promotional Events
---
Trade Show Tube Stands w/ Hollow Lightweight Frames Build Up & Break Down Effortlessly
An eye-catching display is a must have attention grabbing tool for any public or commercial event. Our trade show backdrop frames with hollow tube construction and custom print options are effective in any social business environment. Use these banner stands to hang vibrant custom exhibit walls and entice passersby to visit your booth from a distance. These trade show backdrop frames are portable and build up or break down in minutes for easy transport. Each wall structure supports an array of vivid custom printing options available on our site. Use one-step trade show backdrop frames to stand out among neighboring booths and give your presentation an edge on the competition or to easily showcase merchandise.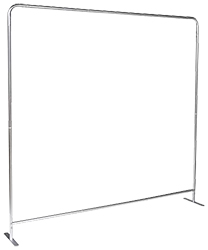 The right graphic display can make the difference between generating new sales leads or a missed opportunity. A trade show backdrop frame, also known as a banner stand, makes setting up for your next trade show, exhibit, or gallery quick and easy. Featuring hollow aluminum tubes designed to accommodate stretch or polyester fabric, these booth walls are a great addition to any showroom floor.
What features make these backdrop frames an effective marketing tool?
Our exhibit walls are available as stand-alone frames or with custom polyester or stretch fabric. The taut design maintains a wrinkle-free appearance and features custom graphics printed with vibrant inks.
Each backdrop frame is constructed with hollow aluminum tubes which are lightweight and durable. This is ideal for those who make frequent event stops and must set up and break down exhibits quickly. These metal exhibitions match the decor of any environment and screw together for added stability.
Every unit comes with a canvas bag or hard plastic cases with wheels to make transportation effortless. These frames are built, and break down quickly and each component remains lightweight and portable.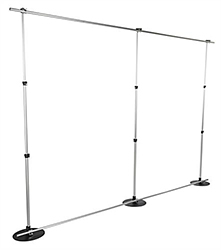 Our expo backdrop frames compliment exhibition booths in a wide range of convention oriented environments. Attract more potential customers by sharing information, presenting stylish graphics, and merchandise. While we do carry many booth backdrops with a flat color scheme, we offer custom options as well. Convey a personalized image, an important message, or company logo with these banners.
What are some additional options and add-ons to these event walls?
Many of our backdrops accommodate clip-on LED or halogen lights, which are a great way to illuminate your booth in low-light areas. Help yourself stand out among others in your area!
We offer both single and double-sided frames to suit your various marketing needs. Single-sided displays are great for welcoming guest and potential customers to your event or to be used against a booth tent wall. Double-sided units maximize visibility in high-traffic environments and can share a larger range of information. Most fabric walls use dye sublimation printing, which can feature any image with life-like detail in full color and boast a high resistance to fading.
Our exhibition frames, also called banner stands, come in different shapes and sizes. Both rectangular and standard square models serve any industry well and a variety of events from trade shows, to exhibits, and art galleries.
Take advantage of vibrant custom displays to one-up the competition at any event. Our collection of equipment extends far beyond fabric walls, we offer a large selection of tables, illumination options, chairs, desks, travel cases, and more! Check out our trade show kits as a simple one-one-stop shop of all-in-one exhibit solutions. Having an attention grabbing, well pieced, and appealing booth is just as important as the products being sold in it. Make sure that your next trade show is a success with these display options.