Floor Standing Magazine Racks for Books, Catalogs & Newspapers
---
Magazine Stands Create Portable and Stationary Literature Displays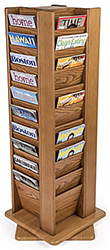 Looking for a better way to organize subscriptions in your businesses lobby or waiting room? A floor standing magazine rack, also known as a literature holder, is a demanding display that will grab customer attention and share industry-related publications.Each of these stands can accommodate a variety of printed media in a wide range of sizes and styles to suit the needs of your business' marketing plan. We carry a diverse selection of floor standing magazine racks for reception areas, lobbies, waiting rooms, and offices. Merchandisers use this assortment to showcase product catalogs, literature, and common entertainment periodicals. Add a floor standing magazine rack to your lobby and promote a better informed customer base.
We offer different styles and materials including holders made from wood, cardboard, metal, and acrylic configurations. With so many options, customers can choose the price range, quality, and design that is most appropriate to their needs. Floor standing magazine racks, when placed in visible locations, ensure that company marketing materials beg to be taken! Cutting-edge businesses use take-away information packets to inform customers of extensive product lines and company events. These types of free standing magazine racks displays are ideal for professional offices, hotels, and travel agencies. Browse our wide selection to find the one with the right finish and features.
What makes these literature holders such unique fixtures?
These lightweight units are more mobile than many countertop or wall-mounted displays. Designed for professional applications from retail shops to libraries, these fixtures are at home in any environment. Transport these free standing magazine racks between events or position one in your lobby to add an accessible literature dispenser to your display.
Many of these printed media displays feature many pockets and tend to have the most storage out other wall or tabletop options. This makes them an attractive selection for many retailers or doctors offices who need to offer larger pools of information.
Store owners choose free standing magazine racks because they are more accessible to customers. Each unit provides plenty of space for printed material and offers durable construction in high-traffic areas.
Any of these floor standing options are a great addition for any business that needs help organizing files or selling periodicals. Use a multi-pocket literature rack to help customers find a specific title or provide a larger selection of information. This type of fixture keeps information organized and saves time when searching through the publications.
What are some special features that make these magazine racks special?
While every option will increase the quality of your presentations, many include adjustable pockets. These fixtures are ideal for showcasing a variety of printed media including articles, brochures, and flyers. Use adjustable literature racks to create versatile pocket configurations. Place anything your marketing team may want to hand out at customers fingertips!
Many display racks are portable, perfect for moving between offices or trade show events. We even carry a specialty holder that has a built-in countertop, which is ideal for convention exhibits.
We offer a line of cardboard magazine racks as well. These units break down and are built in just seconds, ideal for a low-cost fixture to bring between major events. Lightweight cardboard displays ship flat as well. While some customers enjoy that they can simply be thrown out when they are finished, each unit is durable enough to survive through multiple promotional presentations.
Browse a large assortment of newspaper stands, display racks, and literature holders to outfit your office, exhibit booth, or retail store. Providing informational take-away booklets build brand awareness, educate customers, and send home a friendly reminder for your services. Improve your business' influence with a literature or magazine rack and show your clients that you are an expert in the field. Shop from a line of wall mounted or countertop magazine holders to diversify your publications presentations. Use any of the magazine racks available on our site to educate your customer base about extensive product lines, share publications, and inform them about industry-related news.