Slatwall Floor Stands with Literature Pockets for Magazines and Brochures
---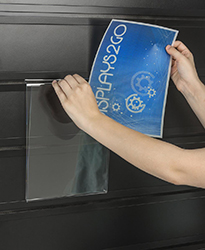 Floor Stand with Slatwall Panels and Included Literature Pockets
Looking for a simple, high visibility fixture to distribute brochures and magazines? Slatwall floor stands with literature pockets are excellent for getting passersby to see print media campaigns. Our double sided displays have seven channels on each side to feature promotional material to both sides of foot traffic. Slatwall floor stands with literature pockets are great for mallways, building lobbies, and department stores. The freestanding racks have a large, striking design that will attract attention to graphics and take-aways. Browse slatwall floor stands with literature pockets in different sizes as well as poster frames to get people to notice advertising campaigns.
How do these floor standing fixtures make brochures and magazines more visible? Slatwall floor stands with literature pockets made of clear acrylic make it easy to see booklet covers. The see-through holders for promotional media allow passersby to see it from a distance. These slatwall floor stands are offered with slots for both 4" wide pamphlets and 8.5" wide catalogs. We also offer freestanding periodical displays with adjustable pockets that can accommodate both common media sizes. Companies with diversified ad campaigns can feature both brochures and magazines in the same place. Find the ideal displays that meet your business's promotional needs.
Slatwall floor stands for print media campaigns are great for advertising because their design is highly adjustable. Place pamphlet holders and other slat accessories on either side of the double sided fixtures. Kiosks are available with more than periodical slots, they also come with signage frames for 8.5" x 11" or 22" x 28" posters. The seven channels on each side can hold a variety of slat accessories including hooks, baskets, and faceouts. It's easy to create a custom display that dispenses promotional info while featuring merchandise for sale. Rearrange, add, and remove accessories as needed to create the ideal freestanding fixture that spreads the word and drives sales.