Tiered Countertop Merchandising Displays Made of Acrylic, Cardboard, Wood, and Metal Wire
---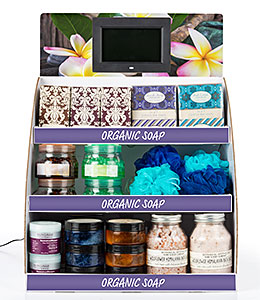 Multi-Tiered Merchandising Display Fixtures for Countertops
Looking to build your retail space on tabletops and checkout counters? Our tiered countertop merchandising displays create compact shelving for featuring small items. These retail fixtures are great for displaying packaged food, vape pens, makeup, and promotional literature. Tiered countertop merchandising displays put these wares at eye level, increasing the likelihood that customers will see them and make a purchase. These tabletop merchandise racks are ideal for convenience stores and pop-up shops — everything from independent retailers to large chains with empty counter space. Browse our tiered countertop merchandising displays offered in a variety of fabrications and designs.
What types of retail counter shelving do we offer?
Tiered countertop merchandising displays made of clear acrylic are affordable and feature wares with high visibility. These plastic risers are great for boosting gift cards, nail polish, and liquor bottles. This style es available with slotted shelves that securely hold cylindrical items like vape pens and makeup. These simple stands are excellent for organizing different options from the same product line in one place.
Our wire countertop merchandising displays have simple lightweight design and are made of strong rust resistant metal. These durable shelving units are often found in bakeries where they feature small pastries and treats. However, they can feature more than food items. Retail stores will often use these metal wire racks to promote impulse items like souvenirs, toiletries, and literature.
Cardboard merchandising displays for counters are by far the most affordable, yet they come with the most customization options. This corrugated shelving ships flat, is easy to assemble, and has removable parts for fitting larger items. The affordable merchandise holders all include a header for written messages and print-at-home graphics. Alternatively, get these cardboard shelves for counters with our full color customization that uses a high quality digital imprinting process for vivid, accurate artwork. Boost your retail presentation and brand image with a digital screen in the header that features your video and audio messaging.
These tabletop merchandising displays are the ideal solution for promoting small items that customers might otherwise miss. Looking to promote your brochures, magazines, and catalogs? Browse our tabletop literature racks with single and multi-tier designs. This is a great way to promote your print media campaign and get people to see your takeaways.