Digital Point-Of-Sale Displays with LCD Video Screens for Branded Marketing
---
Integrated Digital Displays for Cutting-Edge Merchandising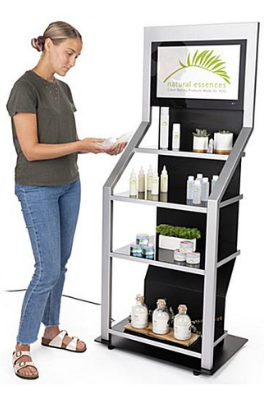 Is your business looking to incorporate digital strategies into your on-site advertising mix? Our digital point-of-sale displays merge time-tested merchandising and business fixtures with multimedia display screens to boost engagement in any commercial enterprise or environment. Whether you operate a retail store, museum, medical office, or charity event, these digitally-enhanced accessories are ideal for showcasing product or sales information, video brochures, how-tos, and much more. Broadcast eye-catching video storytelling in your office, store, or trade show booth and entice customers to make a purchase or donate to your cause. Integrate portable branded digital point-of-sale displays at special events, promotional exhibits, or in pop-up shops to increase brand awareness without reducing merchandising space. High visibility store fixtures with integrated video display screens are designed to attract attention by incorporating full HD non-touch flat panels that present focused multimedia marketing presentations to engage and inform target audiences in any environment.
What types of marketing fixtures with video screens can you employ for your business?
Digital point-of-sale displays, such as merchandising racks, effectively place last-minute purchase opportunities in front of customers during check-out. Floorstanding or countertop models use video promotions to educate about new merchandise, sales, and product details. Promote clearout items or impulse-buys near customer lines to browse while they wait and watch entertaining content. We offer multi-shelf units ideal for showcasing cohesive product lines and variations of colors, flavors, and scents as well as LED illuminated pedestal fixtures that are perfect for encapsulating the beauty of a singular piece.
Donation and ballot boxes give customers a voice and allow them to help any cause. Use a multimedia screen to inform your guest about a charity or fundraiser of your choice, giving them even more of a reason to contribute. Other organizations use these fixtures as a suggestion bin or ballot collection box. Broadcast a charitable cause's message to let them know where their money is going, or inform them about top candidates for a local competition. Each donation and ballot box features a flatscreen LCD panel with a USB and SD card slot for quick changes of media.
Digital crowd control stanchions guide and inform with electronic display messaging integrated onto the top of posts. Advertise multimedia promotions or wayfinding instructions to guests as they wait in queues, or create barrier systems with dynamic videos that can be updated as regulations, guidelines or your guest processes change.
Digital signage is everywhere and is being added as a feature to products in every industry. Your point-of-sale displays should be no different! Step into the new age of marketing with retail merchandise or charity video systems that drive more customer engagement and reduce pressure on your sales associate staff. These flat screen integrated displays support video, images, and audio all from plug-in formats such as USB or SD card. Browse our selection of interactive advertising kiosks to engage with guests in-store or at events. Maximize brand exposure with these high-visibility marketing tools and create a memorable experience for your guest with ever-expanding exclusive Displays2go Digital product lines.