Decorative Countertop Display Cases for Terrariums, Crystals, or Keepsakes
---
Specialty Glass Boxes and Domes Keep Treasured Items in Immaculate Condition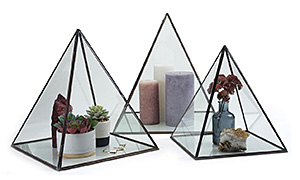 Protecting small valuables and collectibles from dust and dirt is essential, especially if they're exhibited out in the open. Decorative countertop display cases provide the form and function suitable for the task. Unlike large floor-standing curio cabinets, these smaller styles help create a more personal and intimate presentation. As a result, our decorative countertop display cases look as good as the items they're designed to protect. Shop glass domes, pyramids, and locking boxes for the perfect solution — whatever your budget may be. Decorative countertop display cases offer unlimited presentation possibilities, from plants and terrariums to figurines and treasured keepsakes.
What styles of glass boxes and domes do we have to offer?
Decorative countertop display cases in the shape of pyramid boxes (with their five clear panes) are the least expensive. Each piece of glass is framed with copper for a rustic antique look. Hinged, swing-open doors with a non-locking latch provide easy access to your items. Our glass pyramids make an excellent platform for displaying jewelry or personal mementos. The uncommon design offers a stylish and refreshing take when compared to more traditional tabletop boxes.
A glass dome (or "cloche," from the French meaning "bell") offers a wide variety of uses. Our models feature 1/8" thick continuous glass for maximum visibility of the contents. This explains why they are so popular for plants, both real and fake. Since these covers don't come with bases, a terrarium is instantly created by placing the dome over an existing planter. Covering clocks, crystal specimens, and other collectibles are just some of the myriad uses for protecting with glass domes. For best results, we recommend utilizing the 2-inch method. Measure your item(s) and add 2 inches all around and above the dimensions. This will afford enough space for the dome to accommodate beautifully.
High-end display cases elevate your presentation to near museum-like quality. These boxes are manufactured with metal framing in a warm bronze finish. The white leatherette deck exudes luxury. Internal LED light strips are located at the corners, and the locking door keeps your items safe and secure. Elegant display boxes provide the design and style any upscale jewelry store or trendy boutique would love to employ. These illuminated cases are also right at home showcasing a valuable addition in an exclusive collection.
When it comes to highlighting small objects for display behind glass, personal preference is all it takes. Choosing between a pyramid, dome, or box provides many decorative possibilities. In lieu of fancier offerings, maybe all you really need is a simple dust cover. Acrylic displays for collectibles feature square and rectangular shapes. These styles offer the proportions that are better suited for models, sports memorabilia, and figurines.