Wine & Liquor Displays for the Commercial Merchandising of Alcoholic Beverages
---
Wooden Shelf Units, Display Racks, and Open-Style Bins for Merchandising Liquor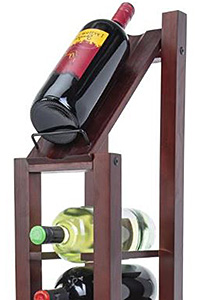 Are you looking to showcase your Pinos, Cabs, and Merlots in stylish new fixtures? Let these wine and liquor displays create a more "exclusive" shopping experience for your customers. Offering personalized service with care and sophistication, boutique vino shops operate at a higher level than run-of-the-mill package stores. Our wine and liquor displays provide the means to achieve elegance and refinement that match the handpicked selections filling your store. In addition to being the perfect fixtures for marketing your pick-of-the-week, these stands and racks can take merchandising even further. Use our wine and liquor displays to sell spirits, nips, beer, and all the accessories that go with them.
What kinds of bottle racks and stands do we have to offer?
Wine and liquor displays require robust construction to support the weight. Wood fixtures featuring dark brown laminated finishes boast square compartments. Removable X-inserts provide four sections for separating your vintages. Rugged metal racks are manufactured with steel framing in an attractive "X" motif. Both our wood and metal shelves can accommodate hundreds of pounds of bottles.
Wooden dump bins are the go-to choice for filling with miniature liquor bottles. Placed at or near checkout counters, these merchandisers can earn considerable impulse buy revenue. Floor standing racks featuring multiple trays are great for holding lots of different items like nips, koozies, and snacks. Rustic wooden barrels, with their wine-and-liquor-themed appearances, are another option for offering loose miniature bottles to passing customers.
Our case stackers boast a novel design feature. Unlike traditional floor stands that merely display stacks of beer, these models come with built-in spring-loaded trays. When adding cases or 12-packs, the internal tray lowers down into the stand with the added weight. Lifting cartons off forces the tray to rise, which always keeps the items at waist height for convenient dispensing!
When customers buy bottles of wine, give them a safe and comfortable way to carry out as they leave. Cardboard wine carriers ship flat and fold into shape at the time of purchase. Cutouts let the wine labels remain visible while they stay protected from breakage. Custom print options increase exposure with your store's logo or seasonal message. These personalized carriers provide a great way to market your products at local vineyards, wine tastings, and trade shows.
Whether you're selling regional varietals or top-shelf spirits, presentation plays a significant role. In the case of wine sommeliers, they must have a broad knowledge of wines. Besides, they must be able to connect to customers in a meaningful way to make them feel comfortable in the wine-buying experience. The warmth of wood grain finishes creates a relaxed and inviting environment, making the perfect accompaniment to your offerings. As a result, choosing the right store fixtures becomes part of the equation. What else do we have to offer besides bottle shelving? Modular shelf units extend your merchandising reach even further with greater real estate for your offerings.