Tabletop Social Distancing Stickers Promote Cafeteria and Restaurant Public Safety
---
Pre-Printed Vinyl Social Distancing Stickers for Restaurant Tabletops
Do you need a better way to inform dine-in customers of where to sit whilst enjoying their meal yet still adhere to your state's public health guidelines? Our tabletop social distancing stickers feature an adhesive backing which leaves no residue once removed, perfect as a temporary or seasonal reminder to maintain a safe physical space in public spaces without damaging your table fixtures. Designed with durable vinyl material, each decal stands up to inevitable spills and standard cleaning with a cloth while busing tables. Choose from a plethora of tabletop social distancing stickers with relevant pre-printed messages set on vibrant colors that will be impossible to miss, yet easy to read. We provide public health verbiage in English, as well as bilingual options with Spanish print. Use tabletop social distancing stickers as a clear, professional reminder to your guests that they must sit across from one another, leave ample space between seats, or that the dining area has limited availability.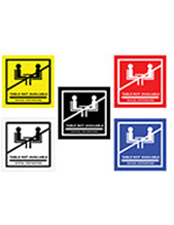 What industries need to create physicals space while dining?
Schools use these decals as an essential day-to-day crowd control tool. It can be difficult to organize large groups of children during regular schedules but will be especially challenging this coming school year with all of the extra guidelines in place. Make sure that your cafeteria tables are clearly marked to avoid confusion and keep your school children healthy.
Cafes and Bars tend to be incredibly social places with large numbers of people who are in-and-out within a moment's notice. What's more, clusters of people tend to gravitate toward one another due to the smaller size of these venues. It is incredibly important to keep foot traffic flowing whilst limiting the availability of inside seating areas.
Restaurants with fine-in functionality are not only under a lot of restrictions but under watch from state agencies to ensure the safety of their customers. Take advantage of these social distancing stickers for tables in order to follow your local guidelines and remain open through the coming seasons.
It is all of our social responsibility to protect others in our communities through the use of preventative, health-oriented measures in public spaces. As more businesses open amidst peak seasons, especially while the risk and spread of infectious diseases remain high, each storefront must be well equipped to control their crowds. Our social distancing stickers for tables feature pre-printed messaging and vibrant colors that your customers would be hard-pressed to overlook. Combine these fixtures with crowd control stanchions, or hanging signage alongside other public health fixtures and you are well on your way to promoting a safe dine-in experience for your guests. Displays2go carries a plethora of tools and signage to help your business adhere to your local physically distanced guidelines, so that you can show your customers that you value their health and safety above all else.