Rolling iPad Floor Stands with Universal Tablet Enclosures
---
Rolling Tablet Stands with Locking Wheels Offer Convenient Mobility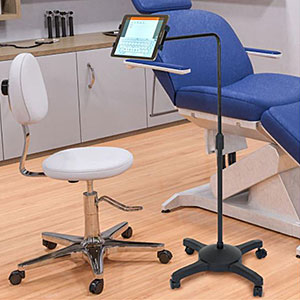 Using your personal touchscreens just got a whole lot easier. Rolling iPad floor stands not only support tablets for hands-free use, but also allow them to be wheeled where needed thanks to the lockable casters. These mobile display fixtures come with commercial-quality features and user-friendly adjustments. Designed for professionals but equally suited for personal applications, our rolling iPad floor stands provide viewers with easy web access or convenient sharing of information.
What are the main features of these mobile tablet holders?
Rolling iPad floor stands wouldn't roll without the wheels. All fixtures come with locking casters to secure the display right where you want it. Moving the iPad floor stand is an effortless process. Whether transporting from room-to-room or over to the far side of the building, wheels make the task super convenient!
Each stand features height-adjustable designs that can accommodate users standing, sitting, or lying down. Choose straight poles or angled L-arm styles, the latter of which are designed for positioning over a desk or bed.
The touchscreen enclosures are designed to be universal, supporting most 7" to 10" tablets. Once installed, the iPads can tilt and rotate to any desired position.
With the addition of wheels, these tablet fixtures offer much greater mobility and flexibility than static displays. Use in the office to share between employee cubicles. Let bedridden patients access the web while convalescing. Aid speakers and educators in classrooms or lecture halls. Enhance accessibility in your business, hospital, or school with these mobile displays! To see more options, our freestanding tablet fixture category offers all models for convenient browsing.