Greenhouse Display Fixtures - Weatherproof Indoor/Outdoor Shelving for Plants
---
Tables, Shelving, and Displays for Garden Centers and Indoor/Outdoor Retail Space
Do you have a variety of gardening supplies and outdoor DIY inventory to merchandise in an open-air environment? Our greenhouse display fixtures help maximize your space and highlight seasonal items like flowers and live goods, as well as bulky staples like ice melt and potting soil. Built to withstand the weather and regular watering, these HDPE plastic shelving and table units are designed to last whether they're used in covered garden centers, on sidewalks, or at farmer's markets. Our weatherproof greenhouse display fixtures for outdoor retail are rated for heavy loads, some as high as 1200 lbs, so that you can arrange your seasonal merchandise without worry. Setup and disassembly are quick, easy, and require no tools in most cases, allowing for smooth transitions in and out of the outdoor shopping season or as you take these displays in and out of storage as needed. As an added bonus, our recyclable greenhouse display fixtures are made from 100% post-consumer material, making them an eco-friendly choice for your garden center, nursery, or florist shop.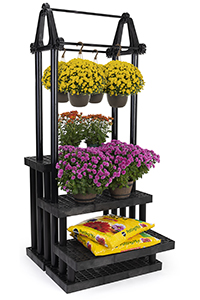 What kinds of garden center risers and stands do we offer?
Single-level bench and table-style greenhouse display fixtures are great for highlighting a select few items. These plant stands come in a variety of heights so that you can mix-and-match to create a showcase that works best for you. Curved designs are well-suited to placement against walls or in tight corners to help you make the most of your space.
Tiered display racks offer more variety and flexibility for merchandising. We carry a variety of configurations meant to draw attention to different focal points and ensure that all your products are easily accessible. All-in-one tiered displays feature several levels as well as crossbars for hanging plants and other merchandise, allowing you to create a one-stop-shop for potting soil, planters, pots, and flowers.
Fixtures with WaterBed™ self-irrigation trays help to reduce your water consumption and make your business more eco-friendly. Available in the same configurations as some of our other outdoor plant shelving, these efficient units maximize water absorption from the bottom up, improving distribution to cut back on the total volume of liquid needed to adequately hydrate your stock.
When opening a garden center or getting a nursery ready for peak planting season, fixtures and merchandising solutions are often top of mind, and for good reason — you can't run a successful retail business without them! However, with all the layout planning to ensure visibility, walkability, and proper drainage for plants, it's easy to overlook a crucial first step in your customers' journey: outdoor signage. Whether advertising sales and new additions to your offerings or just directing visitors to more parking, clear messaging attracts visitors and improves their experience in your store. Invite passersby to come and check out your seasonal plant selection with a-frame and t-style sidewalk signs with slide-in or snap open frames.