Pop-Up Canopy Accessories for Enhancing Outdoor Tent Performance
---
Essential Portable Tent "Go-Withs" for Outdoor Events, Fairs, and Festivals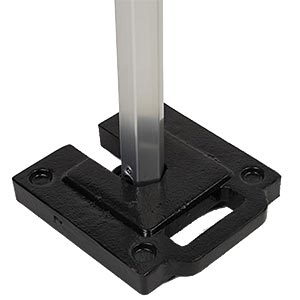 Setting up at an exterior function usually requires some form of shade or protection from the elements. Portable tents are the popular choice but they can be susceptible to various weather conditions like wind. Pop-up canopy accessories provide the final piece of the puzzle when it comes to being prepared! Displays2go's extensive selection of go-withs now offers leg weights, ground stakes, and other supplemental parts not included with standalone tent purchases. Pop-up canopy accessories are an often critical addition to outdoor events that sometimes get forgotten. If you are a portable tent owner, do yourself a favor by stocking up on these essential tools for the next fair or art show, alfresco-style!
What kinds of add-ons are available for my outdoor event booths?
Pop-up canopy accessories start with ground stakes. As the most affordable option, these sets come with everything you need to secure your tent, namely eyelet spikes and the cording required to tie everything together. Of course, this option only works if setting up on grassy areas.
Canopy leg weights are the next best alternative and can be used on any surface from grass to pavement. Each one weighs 11 lbs. and includes an integrated carrying handle. If one per leg is not heavy enough, you can stack more on top of each other thanks to the interlocking design. Weights that can be filled with sand or water are another option. When full, these weigh twice as much as the steel models. After the show, the containers can be emptied for more manageable (and much lighter) transport.
Additional accessories include flag holders that attach to the tent legs. Designed to support standard teardrop or feather-style flags, the clamps raise the fabric banners high above the head. Thanks to their impressive height, your tent can improve its exposure by being seen from greater distances. If you want to add hand sanitizers, our leg-mounted dispenser offers convenient access for festival-goers while visiting your booth. Portable canopy travel bags are indispensable. Folded-up tents get real heavy, so having a dedicated case with wheels makes lugging the dead weight nice and easy. We stock bags sized for 5' x 5', 10' x 10', and 20' x 10' canopies.
If encountering inclement weather during an outdoor show, the last thing anyone wants is for their canopy to blow away. It pays to have these additional accessories on hand to secure your tent. They are not only important for you and your merchandise but also for the safety of show attendees. A portable tent is a substantial piece of equipment and should not be treated lightly in the event of a strong gust of wind. Are you looking to buy a canopy that uses these essential supplies? Standard pop-up tents are available in many booth sizes and colors!