Commercial Monitor Displays for Professional Applications
---
Commercial Monitor Displays in Floor Standing and Wall Mount Models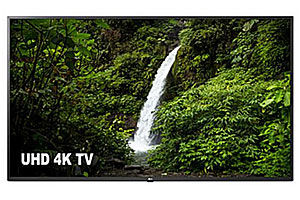 When it comes to displaying digital content, the screens you choose should be an important consideration. Commercial monitor displays are different than typical TVs in that they are designed to run continuously. Bars, showrooms, museums, and conventions centers stream games or their own video content during all open hours, thus requiring robust housings and electronics. Our commercial monitor displays offer just that in a large variety of screen sizes and formats. Superb high resolutions provide the best picture, and the screens are equipped with various connections for uploading images, video, or streaming TV. The embedded content & group management system allows you to play content, schedule, amd control using the convenient remote or with mobile phones or PCs. The commercial monitor displays can be displayed on counters or wall mounted. Models that come with floor stands enable more freedom and flexibility when choosing final placement.
Why should you buy professional digital screens for your business?
Commercial monitor displays are designed for the long haul. Thin, yet rugged housings protect the ultra high definition glass screens, and plentiful ventilation is a must to combat heat buildup (since they are on almost all the time).
Unlike standard TVs from box stores, most monitors for commercial applications come with 2 to 3-year factory warranties. This provides peace of mind, especially since purchasing these types of screens is a sizable investment.
Integrated content management software is where these monitors really shine. The systems support the creation and management of digital content as well as its deployment. Simple, intuitive menus and layouts provide a user-friendly experience during editing, and allow total control with scheduling even if done remotely.
Uploading new content can be done through direct ports like USB and HDMI, or choose to go wireless with more convenient WiFi or Bluetooth connectivity. Whether you intend to display menus, informational videos, or stream entertainment, these professional tools offer the ability to create all-inclusive, eye-catching digital content. From a business standpoint, it all comes down to revenue. Let our monitors enhance your promotional initiatives with engaging content designed to target your customers!