Screw Covers | Decorative Screw Caps (Sets of 8)
---
Screw Covers - Decorative Caps & Sign Holder Accessories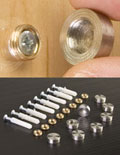 These screw covers, such as threaded knobs and caps, accent any sign display. Whether used for retail displays or in the abode, these sleek accessories bring flexibility to your signs. These decorative screw covers are uncomplicated systems for enhancing wall mounted and free standing signage. Sandwich cap kits come with 8 caps and 6 different sets of 4 threaded studs. These screw covers are of varying lengths and this affords you great freedom in choosing panel thicknesses. Screw cap covers come with (8) caps, screws, threaded washers, and anchors. There is enough hardware in the set of (8) screw caps to mount (2) signs. These screw covers, signage accessories, are cheap way to secure signs & name plates. We sell these knobs in many finishes and sizes!
Why do other customers like these decorative sign holder sets?
These screw covers come as completed standoff systems in sets of 8.
Various finishes are available, such as stainless steel, chrome, and gold to fit all the decoration needs.
Easy installation saves customers time and energy.
Sets of 8 are perfect for 2 sign frames.
The two types of decorative screw caps in this catagory are both designed to enhance signage or picture frames. A standoff system is decorative hardware used for many applications. The metal decor knobs are like standoffs but they stand alone. In this category there are also products to mount signage to the wall. Both knobs and wall mounting sets have caps that screw into position. This set of products is optimal for use in just about any professional setting or the home. Place the display on a counter or mount it to a wall, the preference is up to you. This decorative hardware significantly enhances signage for a very low price!.
Advertise promotions in a retail store or display pictures in the home. Displays2go specializes in decorative hardware accents for architects, designers, sign installers, or anyone needing upscale mounting accessories. Click on the link for Display Signs and Sign Hardware to view our entire line of signage products. These cap systems, decorative hardware ship fast! We have the best selection of screw cap covers and decorative knobs online! For more display ideas and point of sale products sold at wholesale cost, browse all our categories in this convenient E-catalog!