Gridwall Bases - Merchandise Rack Floor Mounting Supports
---
Bases, Brackets, Connectors, & Mounting Stands for Gridwall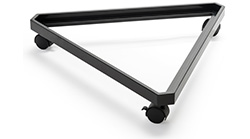 Want to create a merchandise display area that's easy to customize? Gridwall bases are great for building floor standing fixtures. These supports are designed to accommodate 2' wide grid panels that can feature baskets, shelves, hooks, and sign holders. These mobile and stationary gridwall bases are just the first steps in creating enticing retail displays. The fixtures are offered in various styles, including a double sided and "pinwheel" stands as well as wall mount brackets. Gridwall bases are available with fast shipping and wholesale pricing to quickly supply stores with effective shelving units.
What features make these retail fixtures excellent for driving sales? Each of the gridwall bases is made of strong metal to support items like clothing, handbags, electronics, and other merchandise. These are offered in neutral finishes like black and white that fit in any interior. Want to move your merchandise fixtures around the store with ease? Gridwall bases with wheels are ideal for moving into a new position or for quickly moving in and out of storage. The floor standing units can also feature leveling "feet" that remain stable even when customers are browsing through items. The bases are available in a number of shapes, such as simple two-sided panels, triangular supports, and pinwheel units with four sides. Choose a design that suits the needs of your business, especially with regards to walking space.
What else is available with these bases? Our catalog also includes metal connectors for attaching gridwall panels to each other. This is a great way to create a larger gondola display. These simple accessories can connect two grid panels at almost any angle to create an entirely new store fixture.
Grid units are lightweight and affordable compared to other customizable retail fixtures. Slatwall units are great for featuring a variety of accessories that hold merchandise but they take up more room and aren't as light as metal wire grid panels. Consider the difference when planning the layout of your retail store.