Cheap Plastic Menu Stands - Save Big on Bulk Orders!
---
Low-Cost Molded Plastic and Acrylic Tabletop Sign Holders
Are you looking to promote restaurant specials or retail sales without spending a fortune? Our cheap plastic menu stands provide the best way to present limited-time menu options, event directories, and company placeholders. Many bars and restaurant owners love to use these displays because they are economically priced and easy to clean or replace. For large scale events, such as art exhibits and trade shows, these cheap plastic menu stands provide increased advertising potential at a fraction of the cost. Simply print out your own menu insert, custom graphic, or product list and slide it into any of these acrylic countertop bases for an instant marketing display. Cheap plastic menu stands offer incredibly high return on investment for one-time events, businesses just starting out, or for the finance-conscious organization.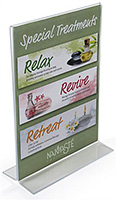 What makes these economy marketing displays so useful?
The vast majority of our cheap plastic menu stands are under $5, meaning that even a brand new start-up can fit one in their budget. This is especially useful while preparing a booth at a trade show, after all, the smallest detail could attract the attention of your next big investor!
Since these countertop sign holders are constructed from acrylic, molded plastic, or PET, they are ideal for the food industry. If a customer spills their drink, or is a tad too messy for your liking, it is quick and easy to clean any of these products to maintain a sanitary environment. If one breaks, it'll cost less than the cost of a drink to replace it, and just think about how many would have been ordered as a result of the fixture's high-profile placement.
The simplified design of these sign holders makes it easy to swap out graphics for specific promotions and events, or even between lunch and dinner specials. We offer multiple styles, including triangular, oval, easel, and tent style bases to help complete your business' custom look.
The affordable prices of these menu stands allow our customers to buy them in bulk for large-scale events or to have consistent replacements handy as need demands. Economy signage is especially useful for small cafes, bar counters, food courts, and banquet halls where many tables need to be covered with event or menu information. Our stands are great for advertising as well; simply place on a countertop to promote drink specials or company information at trade shows. Browse table tents and menu displays for a more diverse selection of countertop marketing fixtures!