Revolving Magazine Racks & Carousels for Commercial Use
---
Revolving Magazine Racks - Spinning Shelves for Displaying Literature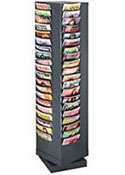 Why not take those messy piles of literature that are just lying around the office or waiting room and organize them with a revolving magazine rack? These spinning literature displays provide a great way to organize periodicals while still generating interest. Many times, the revolving magazine racks, sometimes called rotating literature stands, offer a great way to present a more professional image. This specific type of carousel rotates around so that your customers can browse magazines, pamphlets, and other information very quickly. Rotating and revolving magazine racks for retail allow more than one person at a time to look at the displayed merchandise. These spinning stands are available in wood, metal, or metal with acrylic pocket varieties. They are ideal for locations like gift shops, waiting rooms, and card stores. Find all the highest quality rotating literature stands right here, so you can organize your reading materials and publications. We even offer custom headers for certain spinning periodical displays, so retailers can create individualized presentations.
Why is a rotating literature stand better than a fixed design?
These office revolving magazine racks are able to conserve valuable space, which is often limited in retail and office environments. Rather than monopolizing an entire wall with stationary literature holders, these rotating literature stands let viewers see the whole collection from one vantage point.
Although many of the fixed displays for publications have multiple pockets, these spinning racks & carousels can store much more in a smaller space. The tall design and rotatable body can be placed against the wall without sacrificing visibility.
The literature spinners can also be placed in the middle of a sales floor to maximize exposure. With most fixed stands, only one customer can shop at a time. These spinning organizers let multiple people browse at one time. This way, customers are more likely to find what they are looking for in a timely manner.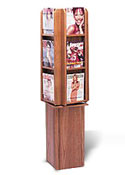 People commonly associate rotating racks for magazines with a more traditional look, like many of our wooden models. These decorative stands provide a warm accent to professional businesses. Many times, doctors' offices and waiting rooms choose these wood display stands for their style. Really any upscale establishment can take advantage of the classic appearance the wooden holders supply. High schools, colleges, and universities are ideal places to add one or several of these magazine displays. Metal is yet another fine option. The long-lasting durability and supreme style provides that modern look lots of today's businesses are after. Car dealerships are typically decorated with contemporary fixtures, many of which are made from metal. These durable spinner stands are also good for hospitals and healthcare locations that take pride in having up-to-date and stylish decor.
Are there any major design differences between the different carousels?
One of the main features of each literature display is the number of pockets. Some of the catalog holders are equipped with compartments all the way up, while others only have pockets on the top half.
All of the metal designs and most of the wooden fixtures have between 40 and 80 pockets, which provides plenty of room to display all your periodicals. Choose from units that feature 10 to 20 slots per side.
While most of the spinner stands feature fixed width pockets, some do include removable dividers that make they pockets adjustable. This way, they can also be used to showcase tri-fold literature, including pamphlets, brochures, leaflets, and flyers.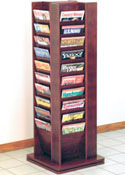 In addition to the above selections, Displays2Go has a full collection of wall mount magazine displays. Clear up table space and make use of blank walls with a mounted magazine holder. With metal, wood, wire and acrylic products there is an item to match every furniture and décor style! There are various types of floor-standing literature display systems that are also for sale in the online catalog. Take a look at the complete assortment to find the right fixtures for your business. There is a solution for every organization. As a manufacturer, our displays are always in-stock and ready to ship. Displays2Go provides a full spectrum of point of purchase exhibits that can be viewed on our main shopping categories page. Need some marketing ideas? Visit our home page for a brief overview of some our more popular products. Our full array runs the gamut from poster frames, podiums, ballot boxes, advertising flags, display cases, TV stands, picture framing, and much, much more!