Hanging Posters with Stationary or Cable Ceiling Mounts
---
Hanging Poster Frames with Included Mounting Hardware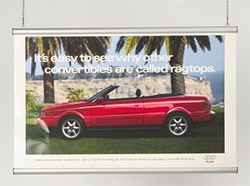 How can businesses feature signage when they run out of wall space? Versatile hanging posters are made with a variety of materials and designs to fit your office or store. With workspaces coming in all shapes and sizes, we offer nylon and steel cable lines with ranging lengths for tall or short ceilings. Stationary hanging posters are another solution, with an unmoving vertical display. There are many designs, some as simple as the single panel, some more complex like the multi-panel. This multiple picture presentation is ideal for a collage or employee photos. Directional hanging posters are another framing solution. This style of displays is used for overhead notices and smaller ID fixtures outside your office. These signs all have easy to use hardware to install into the ceilings. The installation kits include clips, brackets, and nylon cable for any mounting job. Displays2go.com has an immense catalog to fit any size banner for your business needs.
What are the different types of sign mounting options?
Poster Rail: This type of framing uses an aluminum or plastic rail that holds onto the top of an image. The rail itself has cables connecting from the bar to the ceiling for support. These portable rails snap open for simple image switching. The durable bar creates a secure hold on your notice boards, without harming the material. It also allows for flexibility in hanging styles with both S-hooks for wall hooks and suction cups for window mounting.
Chains, Wire, and S-Hooks: The kit contains 2 different length chains or wires, 4 S-hooks, 2 Barnacle clips, and 2 toggle bolts. A sheet of acrylic goes over the advertisement on each side for creating a double-sided image. This plastic comes with two fortified holes on the top corners for easy S-hook or Barnacle clip use. This method of suspension allows for freedom when it comes to the distance from the ceiling, which is important when stores have slanted ceilings.
Cable Suspension: Signage clamps create a secure hold on the banner. There are metal cables, with varying lengths, stretching out from the clamp. Browse semi-permanent mounting options including ceiling, ceiling-to-floor, and wall-to-wall suspension. This style tends to coincide more with the multi-panel design, giving optimal support to each sign.
Perpendicular Mount: This way-finding display installs using two screws. The directory signage is double-sided and easy to install. These fixtures are used to direct visitors or identify rooms. These wall and ceiling mounted office signs are great for navigation in any organization.
What are the advantages of ceiling mounted advertisements?
The single and multi-panel sign boards can hang high up and out of reach. This preserves images because people can't tamper with them..
Large department stores cannot rely on wall advertisements. The adjustable cables allow for large buildings to feature ample signage throughout the interior.
Organization within retail stores with wayfinding notices over the aisles is key. Directional signs let customers know exactly where their product is.
Optimizing retail space is important with ever-increasing real estate prices. By featuring promotional graphics close to the ceiling , you can make the most of every inch of your store.
Add a suspended poster frame into your advertisement or wayfinding mix to showcase promotional graphics in one of the most underutilized spaces. These types of displays maximize the effectiveness of your floor plan by placing advertisements overhead, leaving more possibilities on the showroom for products and customer foot traffic. Many printed graphic poster frames can support double-sided presentations to promote multiple images at once. We carry a large selection of retail advertising graphics holders in wall mounted and floor standing models. Use our marketing fixtures in any industry from restaurants, offices, trade shows, and even family-owned businesses. Displays2go has everything you need to help more customers find you, whether you are a start-up or multi-million dollar company!