Bulletin Board Cases - Metal w/ Cork Backing
---
Metal Framed Bulletin Board Cases w/ Locking Doors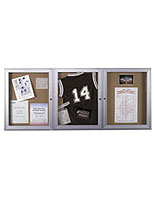 These metal bulletin board cases, also known as aluminum framed corkboards, are great public message centers! An enclosed locking corkboard like the one seen here is the perfect way to communicate upcoming events to students, employees or customers. Each bulletin board case in this category features a large interior self-healing cork surface that provides users with a spacious area to post plenty of articles, flyers, cutouts, posters, advertisements, photos, and other important memos. Besides using the community bulletin board displays to show important messages and articles, some of these pinboards can also be used as a shadow box to show sports jerseys, art projects, and other collectible items. These wall-mount notice board displays, enclosed bulletin board cases are made with an aluminum frame that features an alluring finish. The highly functional yet attractive finish blends well with any interior décor. As a result, the enclosed notice corkboards are usually mounted in the walls of lobbies, hallways, foyers and common areas.
Wall-mount locking corkboards and notice displays allow users to easily change any posting quickly. Each unit has built-in shatter resistant panel on the swing open door. Most of the doors are locking so postings are safely guarded within the case. The swing open doors also enable users to conveniently change out the printed material very quickly. Almost all the bulletin board cases seen here have a key locking system to secure the documents in the cabinet. This can also prohibit unauthorized persons from removing or posting messages on the board. Another great feature worth mentioning is that some of these corkboards come with a customizable header. Businesses can create enticing headlines to draw passerby's attention with unique messages. Mount the bulletin board case in places where passing customers can see the upcoming events, important announcements, schedules, and other messages. The majority of these notice corkboard enclosures are sold with pre-drilled mounting holes for wall mounting. Many of the units even include wall anchors and screws for easy installation.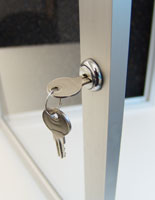 Where can these metal enclosed bulletin board cases be used?

Restaurants for displaying menu listings or lunch specials
Schools or universities for showing schedules and alerts
Information centers for promoting upcoming events or attractions
Theaters or performing art centers for screening listings, dates and show times.
Cafeterias or break rooms for announcing important news about benefits or open positions.
These notice boards are ideal for use in most professional indoor environments. All the interior backing corkboards sold here are designed for repeated tacking. Postings and articles can be easily attached to the board by using push pins, thumbtacks, or staples. Instead of printing hundreds or thousands of paper handouts to give to students or employees, use this aluminum frame bulletin display case to communicate all the important events. The corkboards can help to save your institution on printing costs and will last for many years to come. Keep any community aware and informed about what is going on or upcoming events with this wall-mount notice display case.
What are some of the features available on this aluminum frame bulletin display?

Self-healing corkboard or vinyl backing for repeated pinning.
Shatter resistant, locking acrylic doors keep postings tamper-free.
Swing-open door provides easy access and convenience in changing the messages.
Sturdy satin aluminum frame for attractive look and lasting durability.
In this category, customers can find a great wide variety of different style interior corkboards. All the metal cases sold here have different inner board material and features. Customers can choose either the natural self-healing corkboard or vinyl backing. For businesses that are environmental friendly, we also manufacturer "green" tackboards that are made from 90% post-consumer material. Some of these models even have two or three swing open doors. With the wide selection of styles, sizes, and colors, customers are sure to find the perfect units for their establishments. Most of the message display centers seen here are durably constructed, yet are still very affordable as well. Aside from enclosed corkboards, customers can also find other classroom and business supplies, such as write-on whiteboards, fabric notice displays, outdoor menu cases, conference cabinets, letter board stands, presentation easels, and A-frame blackboards just to name a few. In the main message board display category, customers can view the entire collection. Buy any of these bulletin board systems in larger quantities to receive even more savings on your bulk purchase!