Metal Picture Frames & Aluminum Photo Framing
---
Metal Picture Frames - Aluminum and Other Frames in Wholesale Prices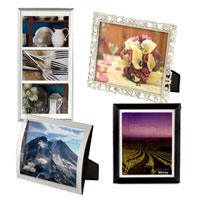 These metal picture frames, are a great addition to your home or business. Place the photograph holders on the tabletop or wall to increase the aesthetics of the environment. We offer these metal picture frames, sign holders and poster holders in a variety of sizes, styles, and colors. There is certainly a model for the any situation. For example, we offer 4" x 6", 5-1/2" x 8" and 8-1/2" x 11" picture frames in black and silver. These dimensions accommodate small images all the way to diplomas. Metal picture frames are a great way to advertise within a business or display pictures in your abode. Many of these eye-catching, modern-looking displays are made from a rugged powdered coated metal. The overall appearance will garner a great deal of interest from most audiences! These metal picture frames are great to use in your home, business, shop, restaurant, museum, hotel or just about anywhere else.
What kinds of designs do these photo frames have?
The selection of these photo holders is quite wide. Traditional models are perfect for those situations that require a basic and time tested approach for showcasing images. Matted and unmatted options are available depending on the photograph included in the showcase. Many of the mattes are removable to accommodate different sized images. For occasions where it is appropriate to display more than one picture in the frame, there are collage options. These units can exhibit up to four different photographs at once! There are also snap frame models for quick sign changes. Choose the style that best suits your specific needs or buy them all to take advantage of the wonderful features!
The units are a great way to accent photographs, certificates, or other pieces worth commemorating. Our wide selection ensures you will be able to find the ideal meal picture frames for your specific needs. Traditional, ornate, and snap open are all options available! In addition to these display products, Displays2go offers a variety of picture frames and sign holders, like traditional wooden frames, and economy plastic styles. Shop our entire selection of display products to find the ideal display for you. We also have an assortment of other display products which range from magazine racks to showcases. As a manufacturer we have the ability to customize a display just for you. Currently there are over 7,000 different displays available here. Displays2go is more than an online vendor. There are on site warehouses that are full of great marketing tools. Contact the consumer service staff to find out more about each marketing tool. These agents are expertly trained on all the different items, so they can better assist customers. Reach them via the phone or live chat. Add your logo, company or product name to make a truly unique design.