Posted on 04, August, 2020
Last Modified on 04, August, 2020
Shop products from this customer spotlight
This month, our Customer Spotlight series is proud to showcase Stars of Hope. Their courageous mission to create hope and healing through art has served as an inspiration to all the lives they've impacted. At Displays2go, we are honored to have the opportunity to give the spotlight to such a worthy cause.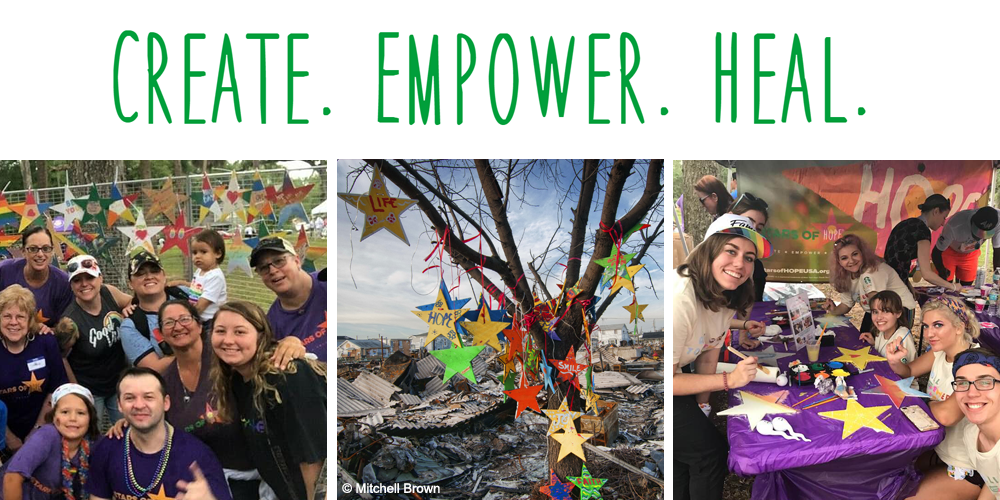 "Stars of HOPE USA® is a therapeutic art program that was created after 9/11 by the New York Says Thank You Foundation. At the intersection of mental health and art, Stars of HOPE empowers people to transform communities after a natural or human-caused tragedy. We serve as beacons of compassion and introduce therapeutic art as a tool in recovery to build the resilience of survivors, first responders, and communities. Our Box of HOPE, allows you to volunteer in-office, and connect through the universal language of art to communities around the world. Our organization enables you to turn any office gathering into a creative, meaningful "pay it forward" service event. Your Box of HOPE purchase helps us to create temporary art installations in communities impacted by tragedy and fund long-term community healing art projects at Pulse Orlando, 9/11 Memorial & Museum Community Day, Charlottesville Unity Day and many more."
- Stars of Hope



"We loved how using Displays2Go Art Grid Wall enabled us to create an art installation of the hundreds of Stars of HOPE created in Orlando for the Pulse Orlando CommUNITY Day. Each hand painted Star is unique, but when displayed on the grid they come together to show how we can heal together. The grid was super easy to assemble and made for an impactful display."